Tory MP removes 'gay lesson' blog entry after complaint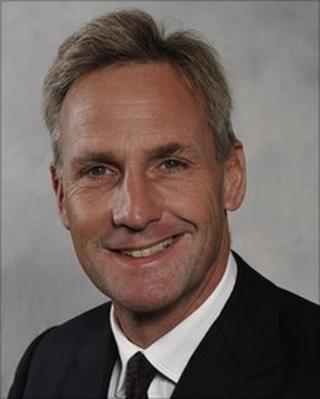 An MP has had to rewrite an entry on his blog after saying plans to teach children about homosexuality would impose "questionable sexual standards".
Conservative Richard Drax said a state-funded plan to use maths, geography and science lessons to instruct about same-sex relationships was "ludicrous".
He later removed the posting following a complaint, saying he had not "intended to be homophobic".
But Labour said the MP's views were "astonishing".
Mr Drax, MP for South Dorset, wrote the original entry in response to a recent article in the Sunday Telegraph which said the lesson plans had been drawn up as part of LGBT History Month - an initiative designed to encourage teaching about lesbian, gay, bisexual and transexual issues.
The initiative, due to run next month and funded by the Training and Development Agency for Schools with a £35,000 grant allocated under the previous government, is voluntary and it is up to schools whether to make use of it.
'Political correctness'
The lessons, written by teachers, will be available for schools to download from the website of Schools Out - the body running the initiative.
In response, Mr Drax wrote: "Yes, if you can believe it, homosexuality will be on the curriculum for students studying maths, geography and science."
"This plan is ludicrous and pushes political correctness to new bounds," he added.
"I would have thought raising educational standards and teaching our children to read, write and add up is far more important than imposing questionable sexual standards on those too young to understand their equality czars."
However, Mr Drax later took down the entry and posted a new message on the subject.
"Following a call from a member of the public about a recent blog, I have decided to re-write my comments to ensure there is no misunderstanding," he wrote.
"My point was not intended to be homophobic but sprang more from a concern that young children should not be taught a subject they simply would not understand."
He said the focus should be on improving the teaching of maths, geography and science given the "lamentable state" of UK standards in these subjects compared to other countries.
'Realistic vision'
The Sunday Telegraph reported the lessons could include using gay characters to explain maths problems, encourage pupils to design symbols linked to the gay rights movement and study the transformation of an area of San Francisco into the world's first "gay neighbourhood".
Mr Drax is not the first MP to criticise the plans - fellow Conservative Craig Whittaker recently called the idea "nonsense".
But the BBC's Adam Fleming said Mr Drax's views had been criticised elsewhere in the party, with one gay Tory MP describing him as a "lone voice" and "educationally challenged".
Schools Out has said the initiative is not about "tub-thumping" but is designed to "remind teachers" that lesbian, gay, bisexual and transexual people are part of the population.
Reacting to the MP's comments, the organisation's co-chair Sue Sanders said: "Schools lie by omission when they do not include the stories of lesbian, gay, bisexual and transexual people.
"Anyone who finds our work problematic needs to realise they are giving comfort to homophobics. Homophobia kills and is expensive."
Labour said it had been "standard practice" for many years to use references to same-sex relationships in the mainstream curriculum.
"It is astonishing in this day and age that a Tory MP is complaining about giving our children a realistic vision of Britain today," said James Asser, co-chair of LGBT Labour.