Tony Blair was warned of 'Iraq danger' by civil servant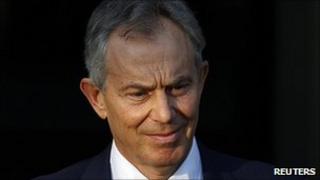 Tony Blair was warned by the UK's top civil servant in 2002 he was getting into a "dangerous position" on Iraq.
Former Cabinet Secretary Lord Wilson told the Iraq Inquiry he alerted Mr Blair to legal concerns - which he saw as being a brake on military action.
In separate evidence, his successor Lord Turnbull said the cabinet "did not know the score" about Iraq when they were asked to back military action.
In his own appearance on Friday, Mr Blair said Iraq had to be confronted.
While the UK's preferred objective throughout was to disarm Iraq through the United Nations, he said he made it clear to President Bush in 2002 that he was prepared to back him in action against Saddam Hussein.
Lord Wilson, Cabinet Secretary between 1998 and the middle of 2002, described the UK's policy towards Iraq before the 9/11 attacks as "relaxed" and "routine".
'Startled'
Even after the terrorist attacks in the US, he felt that other issues - such as Afghanistan and the Middle East peace process - were more important to ministers.
However, he described how he was "startled" and "taken aback" during a cabinet meeting in July 2002 to find "some of the language [on Iraq] implied we were closer to military action than I had imagined we were".
Soon after, at his last meeting with Tony Blair before he stepped down from his post, Lord Wilson said he specifically raised the subject of Iraq.
"I used my farewell meeting with Mr Blair to say that I was worried that he was getting in a position that could be dangerous, that there were dangers in what was going on and I reminded him of the legal position.
"The legal position has always been, in my mind, a substantial and key break on any government military activity."
Lord Wilson said he believed the government had not reach a "settled strategy" on Iraq by the summer of 2002 which would inevitably lead to military action and the cabinet had "emphatically not" endorsed this course.
But he added: "If you had said to me, is the prime minister - as the man who devises and drives through strategy - serious about military action, I would have said there is a gleam in his eye which worries me."
Tensions
He said the Cabinet had allowed him to "have his head" on foreign policy issues since 1997 but by the summer of 2002 ministers - led by Robin Cook and David Blunkett - were starting to raise concerns about the policy.
And he believed there was also "an underlying tension" over the issue between Mr Blair and Jack Straw.
"His foreign secretary was very much in the business of saying 'the crucial thing is to get this through the UN, that is the way we are going to play it and we are nowhere near military action at the moment'.
"I would say that Jack Straw was working very hard to keep the PM focused on the UN and getting too 'gung-ho' about military action."
At the same meeting on 23 July, he said the then attorney general Lord Goldsmith told the cabinet that he believed military action could not go ahead without UN authorisation.
"If you did not do that, his strong advice was that it was illegal to take military action. "The prime minister simply said 'well' and that was it. I just remembered thinking there was an unresolved issue there."
'Cabinet captive'
Lord Turnbull, who took over from Lord Wilson, said the cabinet was not shown crucial material during the countdown to war, including a March 2002 paper laying out the UK's strategic options regarding Iraq and a July 2002 document outlining military alternatives.
"They had had many discussions but no papers. That is why I don't accept the former prime minister's claim they [the cabinet] knew the score."
He suggested the cabinet had little choice but to back the decision to go to war at a meeting on 17 March 2003 as this would have been a "major" departure in policy and likely to have led to Mr Blair's resignation.
"They were pretty much imprisoned. They were pretty much captive."
The style of government practised by Tony Blair meant that very few ministers had "really been taken along, step-by-step, in the major strategic choices" regarding Iraq, he added.
"The prime minister's favourite way of working was to get a group of people who shared the same endeavour and to move at pace and not spend a lot of time arguing the toss," he said.
"You can see the disadvantages of that process. On the one hand, you move effectively ahead but when it comes to the point of engagement and responsibility, you are then asking people to take responsibility for something they have very little to do with."