Economy centre stage for Ed Balls v George Osborne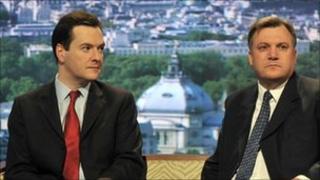 The UK's economy suffered a shock contraction of 0.5% in the last three months of 2010, ending a year of growth. But what are the likely political implications of these numbers?
George Osborne's dogged explanation was that the coldest December in 100 years froze the UK economy.
In answer to several different questions about the horrible GDP number, the chancellor just said again and again "we will not be blown off course by the weather".
Of course, one set of statistics never conveys a definitive economic story. The third quarter GDP estimate is so far away from economists' expectations that a big dollop of caution is advisable from all politicians and commentators.
That said, it is an agonising day for the government. Even after the effects on businesses and consumers of the bitter cold are stripped away, the economy is still neither expanding nor contracting.
One year into an economic "recovery" - and the graph is flat. The fear of the dreaded "double dip" has not gone away.
This just a day after the outgoing head of the CBI Sir Richard Lambert urged the government to beef up its strategy for economic growth.
Labour's new shadow chancellor has been characteristically quick to pounce. Ed Balls said the planned cuts go "too far too fast" and will "damage the economy".
The big economic impact of the deficit reduction plan is still to come. These backward-looking GDP figures don't tell us too much about what may happen in the years ahead.
But they do indicate an economy that is still very fragile.
The fortunes of the coalition and the fortunes of the economy are inextricably bound. Much stronger GDP performance will be needed if the government is to meet its challenges of cutting the deficit, avoiding further tax rises and creating hundreds of thousands of private sector jobs.
Ministers hope current pain will be followed by future gain. At the time of the next election the public finances could be back in balance, growth could be motoring along, and inflation could have fallen back.
There are serious risks, though, that the opposite scenario will have come to pass.
Over the next four years many other Westminster storms will come and go. But, the economy will remain right at the centre of the political argument.