MP Dominic Raab says men victims of discrimination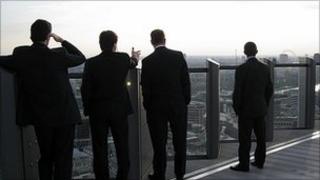 A Tory MP has defended comments he made accusing feminists of "obnoxious bigotry" and adding that men were the victims of "flagrant discrimination".
Dominic Raab said men had a raw deal in the workplace, working longer and being at greater risk at losing their jobs.
He told the BBC it was sexist to claim men had caused the recession and "equality had to cut both ways".
Labour said the comments showed the Tories were out of touch and progress in equality was under threat.
The MP's remarks came amid a row over sexism in football and the media after two leading Sky Sports presenters were disciplined for making derogatory comments about a female assistant referee.
In an article for the Politics Home website, Mr Raab said that despite the UK having "some of the toughest anti-discrimination laws in the world", society was often "blind to flagrant discrimination against men".
'Gender warfare'
Citing what he said were "trite generalisations" about male bankers causing the 2008 financial crisis and the subsequent recession, he added: "Feminists are now amongst the most obnoxious bigots."
Standing by the comments, he told BBC Radio 4's PM programme that he was opposed to discrimination of all kinds including what he said was "pretty obvious" bias against men.
"You cannot have a situation where, rightly, Sky Sports presenters are being picked up for sexist comments they make about women knowing the offside laws and on the other hand say that when there are blatantly sexist comments in the media regularly and no-one blinks - that is wrong."
"If you believe in equality, it cuts both ways."
Citing comments by Labour deputy leader Harriet Harman in 2009, in which she suggested the scale of the financial turmoil may have been reduced if failed investment bank Lehman Brothers had been run by women, he said "subtle" discrimination against men often went unchallenged.
"I think blaming the recession on men is an obviously sexist comment. We should be as tough on all forms of sexism and, frankly, try and get away from gender warfare and the politics of difference."
Retirement age
Mr Raab - MP for Esher - said huge progress had been made in reducing the gender pay gap in the past 40 years and remaining inequalities were less a product of "endemic sexism" than the challenges facing working mothers and couples trying to juggle work and family responsibilities.
Workplace discrimination could only be fully tackled by looking at working conditions "in the round", he added.
"Men work longer hours, they die earlier but they retire later than women. That is not a problem we are going to fix for seven years. How can that possibly be justified?
"The fact is that men working longer hours, enjoy their jobs less - according to the surveys - commute from further afield and are more likely to face redundancy."
Kate Green, chair of the Women's Parliamentary Labour Party, condemned the remarks.
"This is exactly the kind of attitude that shows the Tories are out of touch on issues of importance to people across the UK and are not a family friendly party.
"The equality and diversity agenda put in place by Labour has been hugely important in levelling the playing field for millions of people in the work place and we need to ensure we continue to build on its success."
Equality campaigners say women will bear the brunt of the £81bn in government spending cuts planned over the next four years but failed in a recent legal challenge to last year's Budget.