Ministry of Justice doesn't know all jail costs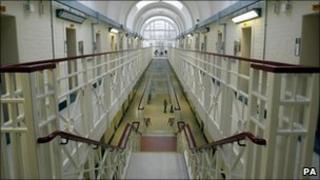 The Ministry of Justice does not "fully understand" the costs of all its prisons, a committee of MPs says.
The Public Accounts Committee said the ministry must improve its financial management as it prepares massive cuts.
Under the spending review, the ministry must cut its budget for courts, jails and probation by almost a quarter.
A spokesman for the department said there had already been significant improvements to its financial management.
Under the spending review, the ministry must cut its budget from £8.3bn to £7bn by 2014.
Justice Secretary Ken Clarke says that will be achieved by radical reforms including cutting the prison population and using charities and the private sector to target reoffending. If successful, the changes would mean that the average cost of a prison place would fall from £41,000 to £25,000.
But in its report, the committee said that the Ministry of Justice lacked a "consistent approach" to overseeing its finances, and that by the end of 2010 it only fully understood costs in six out of 10 prisons.
Such a lack of insight into why similar prisons were spending differently meant the department could make "ill-informed" cuts to services, said the report.
On fines and penalties, the committee found that in the last financial year, some £1.5bn was outstanding after six months.
Committee chair Margaret Hodge said: "If the Ministry of Justice is to minimise the impact on its frontline services of its tough spending settlement, it must fully understand the cost and value of those services.
'Not acceptable'
"It is simply not acceptable that, after two years' work, the Ministry still does not fully understand the cost of its staff activities in its largest executive agency."
Ms Hodge added: "Improvement is badly needed here, as it is in the area of fee recovery and fines collection. Unpaid court fines and penalties have been increasing year-on-year.
"As government devolves more to arm's length bodies, it is crucial that all government departments ensure rigorous accountability."
A spokesman for the department said: "The Ministry of Justice notes the criticisms in the PAC report, which is based on data from 2008 and 2009.
"Since then, as the report states, significant progress has been made in the way that the department manages its finances. We will carefully study the report's findings and formally respond to Parliament in detail on its recommendations."