Cooper attacks 'shambolic' counter-terrorist review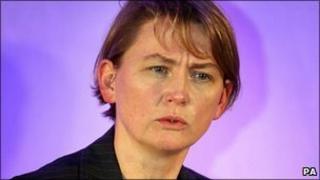 The government's review of counter-terrorism legislation has been "chaotic and cavalier", new shadow home secretary Yvette Cooper has said.
In her first Commons appearance in the role, she said the review of control orders and other security measures due out on Wednesday had been "shambolic".
She called for details of powers police will have to hold suspects in crises.
Home Secretary Theresa May said Labour could not say whether they backed pre-charge detention being cut to 14 days.
Facing Mrs May for the first time at Home Office questions, Ms Cooper called for an apology for how the government had handled its review of counter-terrorist legislation - the findings of which will be published on Wednesday.
She said there was still confusion over the future of control orders after the BBC reported the proposed replacement system - the subject of months of negotiation between the coalition partners - would retain key elements such as the power to tag suspects electronically.
And despite powers allowing the police to hold terrorist suspects for up to 28 days lapsing at midnight - when the maximum period of pre-charge detention will revert to 14 days - Ms Cooper said ministers had still not published details of promised draft emergency legislation which could be used to grant police an extension to detain people in "exceptional circumstances".
"This is a chaotic, shambolic and cavalier process," she said.
"Will she tell us what is happening with the draft legislation and control orders and will she take the opportunity to apologise for a shambolic process on such an important issue?"
'Went too far'
Control orders allow ministers to place a terrorism suspect under close supervision that some say is similar to house arrest.
BBC Radio 4's chief political correspondent Norman Smith said he had been told the replacement regime was expected to keep powers to tag suspects electronically and to replace curfew requirements with demands to remain in a certain property overnight.
He added that it was a "moot point" whether this really meant an end to curfews.
Opponents of control orders, introduced by Labour in 2005, say they infringe civil liberties, but supporters argue they are necessary to protect the public.
The Lib Dem manifesto pledged to get rid of the "house arrest" element and there have reportedly been heated discussions between the party and the Conservatives over the issue.
Earlier, Ms Cooper told BBC Radio 4's World at One that the future of control orders had been held up by "political wrangling": "In an ideal world we wouldn't have control orders... We are very happy [to get rid of them] if there are better ways of doing control orders and we are very ready to look at that and see the evidence."
'Clear results'
The shadow home secretary has also admitted that the previous Labour government's failed plans to extend the length of time terror suspects can be held had been wrong, saying: "Some of the things we did like the proposals for 90 days, even 42 days, were going too far. I don't think that was the right approach."
She also said: "What we want here is a responsible debate about this. At the moment we've got a counter-terrorism review that's been so delayed by political wrangling within the government between the Conservatives and the Liberal Democrats that we are getting the results of the review after the old powers have fallen."
The Home Office has said the wording of the Terrorism Act of 2006 meant the 28-day limit could be re-triggered if necessary to deal with future crises and it had not promised to publish details of how this would work prior to the expiration of the current powers.
The forthcoming security review would provide "clear results", Mrs May added, and it was "unfortunate" that Ms Cooper was unwilling to say whether she backed the 14-day limit.
"If the right honourable lady is interested in chaos, she should look at sorting out her own policy," she told MPs.
Ms Cooper was made shadow home secretary in last week's Labour reshuffle prompted by the resignation of shadow chancellor Alan Johnson. She replaced husband Ed Balls, who himself replaced Mr Johnson.