Lord Taylor expenses trial jury sent out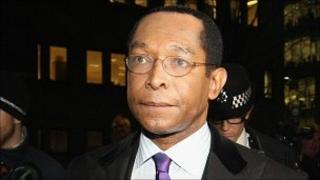 The jury in the trial of Lord Taylor of Warwick, who is accused of making false parliamentary expenses claims, has been sent out to begin considering a verdict.
The former Tory peer denies six charges of false accounting.
He is accused of claiming travel costs between his Oxford home and Westminster, as well as subsistence for staying in London.
Justice Saunders said the prosecution had to prove he had acted dishonestly.
The 58-year-old peer, who has resigned the Conservative whip, said on Friday that he had listed his main residence as a home in Oxford while he actually lived in London, following advice from colleagues.
In closing statements on Monday, prosecution barrister Helen Law told Southwark Crown Court that the peer should not be seen as a "scapegoat" for the whole expenses system.
The peer had "used" a system "open to abuse", she said, arguing that the case was about "where Lord Taylor was living and where he wasn't living".
'Alarm bells'
Speaking of the trips he claimed for, she said: "Those were journeys that didn't happen from a home that wasn't his. Lord Taylor knew those facts and he said he didn't attempt to mislead anyone.
"I'm going to suggest that as a lawyer and as a member of the House of Lords, the alarm bells would have been ringing loud and clear."
She urged the jurors not to feel sorry for Lord Taylor, telling them: "Firstly, it's not about sympathy. Just because your job doesn't pay you much doesn't mean you can put your hand in the till. You ask for a pay rise, and you explain why it isn't enough. If it doesn't go up, you leave and you get another job."
Ms Law went on to say that Lord Taylor should not be seen as a "scapegoat".
She said: "It is Lord Taylor alone, and not the system, that is on trial. Even if Lord Taylor was telling you the truth when he said that other people were doing the same as him, even if there were others doing the same, that's not a defence."
Ms Law said the staff processing the claim forms in the House of Lords finance department had no reason to believe he was lying, and they had relied on the information being correct.
She said: "It was a lightly policed scheme, open to abuse. Lord Taylor knew that, and he used it."
'Honest man'
Lord Taylor, of Lynwood Road, Ealing, west London, faces allegations of false accounting on various dates between March 2006 and October 2007.
His defence barrister, Mohammed Khamisa QC, said: "We hope that you have learned that nothing about the system in the House of Lords was straightforward.
"The reality is that the system, at best, was a grey one: unclear, ill-defined and, most crucially, treated by many as a remuneration in lieu of salary."
Mr Khamisa also said: "The prosecution bring the case and so it is they that must prove that John Taylor is guilty. He is innocent until that time. You have to be sure."
He went on to say that an independent report published by the Senior Salaries Review Body had found the scheme to be "ambiguous".
He said Lord Taylor had been advised by other lords to nominate a "main residence" outside London and had trusted their greater experience.
His client's actions had been "clumsy, illogical and stupid, but not a deliberate attempt to lie".
'Look at it objectively'
Mr Khamisa added: "He is not motivated by money. He is a humble man, a gentle and honest man, with a clear moral compass. He is not a man with a silver spoon in his mouth."
Summing up, Justice Saunders said Lord Taylor was undoubtedly a man of good character who had devoted a lot of time to helping others.
He said the jury should focus on the allegations against Lord Taylor and disregard whether they believed other members of the House of Lords had also made dishonest claims.
He added: "Was what the defendant did dishonest by the standards of reasonable and honest people? You set the standard. Look at it objectively."
The trial judge concluded his summing up on Tuesday by going through the claims that Lord Taylor made on various dates between March 2006 and October 2007.
The first claim was for £1,555.70, the second for £2,042.80, the third was £1,600.70, the fourth £2,309.50, the fifth £2,421.80, and the final claim was for £1,347.30. The total was £11,277.80.
Judge Saunders went on to talk through the facts of the case and matters of the law with the jury of seven men and five women.