Gordon Brown asked police about phone hacking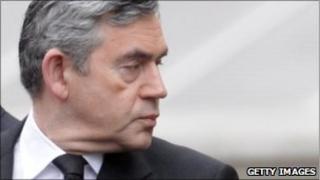 Gordon Brown asked police if his phone was hacked while he was prime minister, a source close to him has confirmed.
Scotland Yard has not yet answered Mr Brown's inquiry, made some months ago.
The Independent on Sunday reported that Mr Brown was concerned about the time when hacking was carried out by a News of the World reporter, since jailed.
It comes after Downing St director of communications Andy Coulson quit amid allegations about phone hacking at the News of the World when he was editor.
Labour deputy leader Harriet Harman, speaking on Sky News, said: "Hacking into people's phones is illegal. Obviously the criminal law has got to be complied with and if it is broken then it should be investigated by the police and it should be enforced.
"Nobody is above the law, no newspaper editor, no journalist."
Although the Independent on Sunday also reported that Mr Brown's predecessor Tony Blair had asked the Met Police to investigate whether he was the victim of phone hacking, his spokesman said: "Tony Blair did not have a mobile phone as prime minister."
Deputy Prime Minister Nick Clegg has denied the government has been damaged by the row surrounding the departure of Mr Coulson.
Mr Coulson has denied knowledge of any hacking when he was editor and Mr Clegg said he "had no reason to disbelieve him".
The process of finding a replacement for Mr Coulson - who first joined Mr Cameron's inner circle in 2007 when the Conservatives were in opposition - is under way after he indicated his intention to stand down in the next couple of weeks.
Labour have questioned Mr Cameron's judgement in retaining Mr Coulson in the high-profile role amid the continuing allegations.
'Play a role'
Mr Coulson has repeatedly denied any involvement in or knowledge of such activities but said on Friday he would step down as continuing media coverage of the issue "made it difficult for me to give the 110% needed in this role".
Asked whether Mr Coulson's departure was a blow for the coalition, Mr Clegg said he believed the government would not "miss a beat" in pressing ahead with its agenda of securing the economic recovery and public sector and constitutional changes.
And he defended Mr Cameron's handling of the issue and his decision to appoint Mr Coulson in the first place after he resigned as editor of the newspaper in 2007.
"If you listen to what David Cameron has said," he told BBC One's Andrew Marr show, "he said very emphatically that he thought it was right to give Andy Coulson a second chance.
"Andy Coulson has been very clear that he was not in any way responsible for phone hacking and had no knowledge of it. I have no reason to disbelieve him."
Mr Clegg said he would have some input into the choice of who would replace Mr Coulson.
"It is primarily a decision for the prime minister, he is the prime minister's spokesman but he is also responsible for communicating government policy so of course I will play a role as well."
Conservative MP and former shadow home secretary David Davis said the inner circle of Tories might lose touch with "the poorer part of the country" once Mr Coulson leaves.
"There he was, an Essex boy, council house lad, made his own way in the world and frankly never minced words. He was somebody who brought that gritty, slightly tough but necessary mindset to the Conservative leadership's thinking," he told BBC Radio 5 live's Pienaar's Politics.
'Trust in politics'
Labour said David Cameron could not escape responsibility for bringing Mr Coulson into his top team when there were unresolved questions about his past.
"I think that David Cameron was wrong to appoint someone to the heart of the government, to the heart of Downing Street, who had actually been editor of a newspaper at a time when criminal activity was going on," Ms Harman said.
While acknowledging that Mr Coulson had denied any involvement in phone hacking, she added the issue risked further eroding public confidence in politics.
"For all David Cameron talks about trust in politics, it is fundamental that people obey the criminal law and that is what is at stake here," she added.
'One rogue reporter?'
Energy Secretary Chris Huhne, a former journalist, said he believes that until now the Metropolitan Police have not been treating the case seriously enough, and questioned whether the hacking was restricted to a single journalist.
The journalist, News of the World royal editor Clive Goodman, was jailed in January 2007 for four months for conspiracy to access phone messages left for royal aides.
Private investigator Glenn Mulcaire was also jailed for hacking into the phones of politicians and celebrities, including model Elle Macpherson, publicist Max Clifford and MP Simon Hughes.
"It seemed to me clear for a long time that the number of people who were being hacked clearly was not consistent with it being one rogue reporter who happened to be the royal correspondent.
"Why would the royal correspondent be interested in hacking the voicemails of Simon Hughes, my colleague as a Liberal Democrat MP, for example?"
There have been allegations that other newspapers were also carrying out hacking.
Lawyer Mark Lewis said he was preparing civil legal action against other papers on behalf of four people, including celebrities.
"It appears to have been a widespread practice," he said.