Alan Johnson v Ed Balls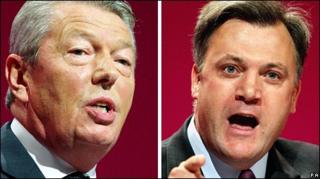 It is all change on Labour's front bench after Alan Johnson's surprise announcement he was quitting as shadow chancellor, to be replaced by Ed Balls. Party leader Ed Miliband has said economic policy will be "unchanged" - so what are the differences between the two?
BACKGROUND
Alan Johnson: Born 1950 in London. Orphaned at the age of 12, he was raised by his elder sister in a council flat. He attended Sloane Grammar School in Chelsea but left school at 15, dreaming of being a rock star. He played in a band but worked as a clerk for Remington Electric Shavers and a shelf-stacker in Tesco.
Ed Balls: Born 1967 in Norwich. The son of a zoology professor, Ed Balls was educated at a private all-boys school, Nottingham High, and Oxford University, where he gained a first class honours degree, before attending Harvard, in the US, as a Kennedy scholar.
CAREER BEFORE POLITICS
Alan Johnson: A former postman, he moved up the ranks of the Union of Communication Workers, becoming its general secretary in 1993. He also served on the general council of the TUC and was a member of the ruling National Executive Committee of the Labour Party.
Ed Balls: A teaching fellow in the department of economics at Harvard between 1989 and 1990, he became a leader writer and columnist at the Financial Times from 1990 to 1994. He worked as an adviser to Gordon Brown when Labour was in opposition from 1994. He then became economic adviser to the Treasury when Mr Brown was chancellor.
PATH INTO PARLIAMENT
Alan Johnson: Said to have become Tony Blair's favourite union boss because he was the only one to support the abolition of Clause IV, he was parachuted in as MP for Hull West and Hessle just three weeks before the 1997 general election, when the previous MP stood down at short notice.
Ed Balls: Talent spotted by Gordon Brown when he was a young financial journalist, he had already been working for the then chancellor for years when he was selected for the seat of Normanton in 2005. When boundary changes replaced his and neighbouring Labour MP Colin Challen's seat, Mr Challen announced he would be stepping down to work with Sir Nicholas Stern on climate change. The Tories suggested Mr Brown had lined up the job to clear the way for Mr Balls to stand in the new seat, Morley and Outwood. In 2009 Mr Challen claimed he had been "pushed out" of Parliament by the boundary review.
PERSONAL STYLE
Alan Johnson: An affable and human politician, he was seen as someone who could connect with working class voters. He was also popular with Labour MPs, joking after Labour narrowly saw off a rebellion over top-up fees that he had been part of a "charm offensive" with then Education Secretary Charles Clarke: "I was the charm, Charles was the offensive."
Ed Balls: Often dubbed an "attack dog" or even a bully by commentators, Ed Balls is a politician who relishes a verbal scrap and is likely to take a more aggressive approach to the shadow chancellor brief than Mr Johnson. He has denied briefing against his own allies when in government - including over the 2007 snap election that was never called, telling BBC Radio 4's World at One: "I do everything I do on the record, I am very straight, I'm not somebody who is whispering in the ears of columnists here and columnists there. It's not true."
BLAIR OR BROWN?
Alan Johnson: Rose quickly through the ministerial ranks under Tony Blair and was once touted as a possible challenger to Gordon Brown for the party leadership. However he was also promoted under Gordon Brown, to home secretary and remained loyal to him when his leadership looked shaky.
Ed Balls: Owes his political career to Mr Brown but has denied claims in Lord Mandelson's book that he was part of a Brownite "insurgency" against Mr Blair, telling the BBC: "I was never involved in an insurgency. I was very close to Gordon Brown but I also saw Tony Blair very regularly. But we had our disagreements." In his diaries, Tony Blair's former communications director Alastair Campbell claimed Mr Balls was "full of bile" about Mr Blair.
ECONOMIC EXPERIENCE
Alan Johnson: Famously joked on being made shadow chancellor that one of his first moves would be to "pick up a primer in economics for beginners". With no background in economics, he acknowledged he was being "chucked in at the deep end" but said politicians had to learn quickly on the job.
Ed Balls: Even opponents concede Mr Balls has a formidable grasp of how the economy works. He was effectively Mr Brown's second-in-command at the Treasury with a hand in some of the biggest economic decisions of Labour's time in power - including making the Bank of England independent and staying out of the European single currency. Also known as the author of the phrase "neo-classical endogenous growth theory", used in a speech by Gordon Brown in 1995 and mocked by the Conservatives.
TACKLING THE DEFICIT
Alan Johnson: Has criticised the scale of the coalition's spending cuts and argued that Labour had "robust" pre-election plans to halve the deficit in four years. However he said in October that Labour now wanted a larger share to come from tax rises - 60% from cuts and 40% from tax, as compared with pre-election plans of 66% cuts and 33% tax rises. He told Sky in September Alistair Darling had "got it just about right" but added there had been developments since the election which should be taken into account.
Ed Balls: Broke ranks with Labour's pre-election economic pledges during the Labour leadership contest when he said: "At the time in 2009 I thought the pace of deficit reduction through spending cuts was not deliverable, I didn't think it could have been done." Ed Miliband has said Alistair Darling's plan to halve the deficit is a "starting point" for Labour. Mr Balls has since said, if there was a Labour government, "we would be halving the deficit over four years, in fact we would be over-achieving".