Alan Johnson protection officer faces investigation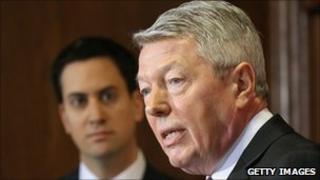 A policeman who protected Alan Johnson has been referred to Scotland Yard's standards directorate after newspaper reports he had an affair with his wife.
It follows the Labour MP's shock resignation "for personal reasons" as shadow chancellor on Thursday.
Scotland Yard would say only that "certain matters" regarding the policeman had been referred to its directorate of professional standards.
Mr Johnson has been replaced in Labour's shadow cabinet by Ed Balls.
It is understood the policeman was assigned to protect Mr Johnson and his wife when he was home secretary.
A Metropolitan Police statement added: "We are not in a position to discuss this matter any further."
Sources told the BBC the police constable had not been relieved from duty or suspended but aspects of his conduct had been referred to the standards directorate, which investigates complaints about conduct.
The 60-year-old Labour MP's decision to quit came as a complete surprise at Westminster, even though he had suffered some criticism for his performance as shadow chancellor.
Ed Balls is preparing to take on the job following Mr Johnson's sudden resignation after three-and-a-half months in the job.
'Very sad loss'
Mr Johnson said he had "found it difficult" to cope with issues in his private life while shadow chancellor.
In a statement, the former postman and trade union leader said: "I have decided to resign from the shadow cabinet for personal reasons to do with my family."
Mr Johnson, who will remain as MP for Hull West, has refused to comment further and has not given any interviews.
He has been married to his second wife Laura for almost 20 years and the couple have a 10-year-old son.
Mr Johnson's constituency agent Stuart Spandler said he had been his "normal, bouncy, bubbly self" at a meeting there on Thursday night.
Labour's deputy leader Harriet Harman told BBC Radio 4's Today programme Mr Johnson's departure was "a very sad loss to our front bench in the Labour Party but I also think he's a loss to British politics".
She said: "He was universally liked and admired and we will very much miss him."
Asked whether he might return in future, she said it was a "matter for him".
BBC political editor Nick Robinson said the resignation had come out of the blue and Westminster was now abuzz with rumours about Mr Johnson's marriage.
Cabinet reshuffle
Labour leader Ed Miliband told the BBC he had accepted the resignation "with great regret" and Mr Johnson's reasons for standing down had "nothing to do with the job" of shadow chancellor.
Mr Johnson, an MP since 1997, served as home secretary, health secretary and education secretary under Gordon Brown, but his economic credentials had been brought into question after several recent gaffes.
In an interview he appeared not to know the rate of National Insurance paid by employers, and he was also reported to have clashed with his party leader over the policy of introducing a graduate tax to replace university tuition fees.
His resignation left Mr Miliband facing his biggest test since being elected, forcing him to reshuffle his shadow cabinet less than four months into the job.
Mr Miliband installed Mr Balls as shadow chancellor, having overlooked him last October.
A key ally of former Prime Minister Gordon Brown, Mr Balls has publicly disagreed with the party's policy to halve the budget deficit in four years.
But Mr Miliband said he brought "great expertise" and they would work "on the direction Alan and I have set out".
"Economic policy is unchanged. Actually Ed and I have similar views."
Mr Balls said he had a big job to get on with and he intended to hit the ground running.
'Not about ego'
Asked about his relationship with Mr Miliband and comparisons to that between Tony Blair and Gordon Brown, Mr Balls said he had worked closely with Mr Miliband for 17 years and were a "partnership".
He added: "Also we have lived very directly through difficult periods when personalities didn't get on and I think both of us have learned the right lesson from that period, which is stick together, do it together.
"There is a bigger purpose than Ed Miliband or me. The bigger purpose is what's good for the country, what's good for our party but in particular taking this argument that the Tory-led coalition are getting it wrong.
"It's not about ego, it's about us together doing the job and I am totally 100% confident together we will do that really really well."
The government is likely to focus on Mr Balls' close association with Gordon Brown during the former PM's years at the Treasury.
Simon Hughes, deputy leader of the Liberal Democrats, told BBC One's Question Time: "You have got the history of raiding the pensions, selling gold at the lowest possible rate and the huge deficit that's left.
"So I think he (Balls) is now absolutely the man who can be pinned with the responsibility for the mega-debt that we are all having to pay off."