Iraq strategy made people 'very unhappy' - ex-spy chief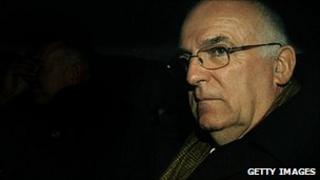 Former spy chief Sir Richard Dearlove has told the Iraq inquiry that many people were "very unhappy" about the UK's strategy in the run-up to the war.
The head of MI6 in the run-up to the 2003 invasion also denied he was "too close" to Tony Blair and said there was "convincing" evidence that Iraq possessed "weaponised" chemical agents.
He gave evidence last year in private but details have just been released.
Mr Blair is due to give evidence to the inquiry again on Friday.
The former prime minister is expected to be asked about private conversations he had with President Bush over Iraq when he is recalled to give evidence, as well as the legal basis for the 2003 war and intelligence about the threat posed by Iraq.
'Difficult and awkward'
When he first appeared before the inquiry a year ago, Mr Blair said he had "no regrets" about taking the UK to war and believed the world was a safer place after Saddam - who he described as a "monster" - had been overthrown.
Ahead of Mr Blair's second appearance, the inquiry has been releasing a number of declassified documents and details of evidence given in private.
In his evidence - given behind closed doors and substantial parts of which were redacted - Sir Richard said people within MI6 were expressing concerns, in private, about government stategy on Iraq.
"It is not just the SIS that is unhappy," he said. "There is an extensive body of opinion across Whitehall that's unhappy. Very unhappy."
As head of the Secret Intelligence Service - and known as "C" - Sir Richard was a key figure in assessing intelligence about Iraq's weapons capability.
He denied suggestions he had become "too close" to ministers in the run-up up to the Iraq invasion and that this had impaired his judgement.
"I'm well aware of the criticisms of me, that I had too close a relationship with the prime minister and all this. This is complete rubbish. The Secret Intelligence Service (SIS) generally doesn't "do ministers"," he said.
He added: "I wasn't sipping Chardonnay in the evenings with Tony Blair, or nipping off to have breakfast with him in Chequers.
"I was going to meetings, as the head of SIS, to discuss SIS business in relation to the development of national security policy. I think that the record shows that absolutely clearly."
"A lot of people were jealous of my position, and therefore, I think, motivated to talk about it, including the foreign secretary of the day. You know, this was a very difficult and awkward period for me."
'Incomplete'
Sir Richard said he did not believe there was a "complete picture" of what weapons Iraq had possessed. He said he "absolutely" believed that Iraq had VX nerve gas capable of being deployed and that this material had never been found.
"Had even we found one artillery rocket delivery system with VX, what we are talking about might be viewed very differently," he said. "I think that the intelligence on VX, if you actually put it together -- and no one has done this -- is very compelling."
No weapons of mass destruction were found after the Iraq conflict.
The BBC's Peter Hunt said it was impossible to get a full understanding of what Sir Richard had told the inquiry as about half of the 160 pages of the transcript had been blacked out.
The inquiry has said it will only hold hearings in private when doing so in public would threaten national security and harm international relations.