MPs asked to vote against 1% pay increase next year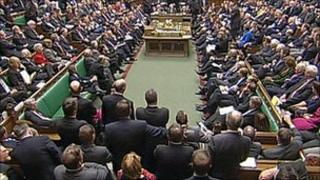 The government is asking MPs to give up the 1% pay rise that has been recommended for them next year.
Commons leader Sir George Young says MPs will be asked to reject the rise "in the light of" the imposition of a two year pay freeze for public sector workers earning more than £21,000.
The 1% rise for MPs in 2011-2012 was approved by the independent Senior Salaries Review Body (SSRB).
One Tory MP said it was "foolish" for ministers to intervene on the issue.
MPs are currently paid a salary of £65,738 after receiving a 1.5% rise last year - a particularly controversial move as it came in the aftermath of the scandal over parliamentary expenses.
'Restraint'
Sir George said he would ask MPs to block this year's increase - by putting forward a resolution in the House of Commons within the next few weeks.
Since MPs gave up responsibility for setting their own pay in 2008, recommended pay rises take effect automatically.
The rate of increase is linked to the median pay rise received by a range of different public sector workers and must be approved by the SSRB. However it has insisted it has no "discretion" over the figure as it is determined through a set formula.
Asked about the issue in the Commons, Sir George said he continued to support independent assessment of MPs' salaries but the government had a "clear position" on public sector pay and MPs should not be a special case.
The coalition announced a two-year pay freeze for workers earning more than £21,000 in June's Budget. The move will affect 1.7 million workers when it comes into force in April.
"MPs earn substantially more than £21,000," Sir George said. "I believe that the House will want to reflect very carefully before taking a 1% pay increase against a background of the restraint that many other people earning much less money than we are are having to face over the next two years."
"I hope the House comes to a collective view and agrees it would be right for MPs to exercise restraint for the time being."
A Number 10 spokesman said there was pay restraint across the public sector and that MPs should not be immune from this.
The call to forgo the pay rise is likely to anger some MPs, many of whom are unhappy with the expenses system put in place after last year's election, and the curbs on what they can claim.
'Foolish'
Tory MP Mark Field said the government's intervention threatened the independence of the pay review framework and MPs should "abide" by whatever decisions it reached.
"I can't say I am very happy that George Young is trying to drive through this move," he said. "How are we going to regain the trust of the general public if once again we set our own salary rather than leaving it to the independent review body?
"That is the whole point of having an independent review. It is incredibly foolish what is being proposed."
He added: "There probably won't be much opposition because they will all want to take a hair shirt. No MP is going to get great plaudits for taking a pay rise. But if (the independent body) came out and said take a 3% pay cut I would take that too."
The current formula for setting MPs' pay will effectively be suspended pending the expenses watchdog - the Independent Parliamentary Standards Authority - taking over responsibility for pay later this year.
IPSA will conduct a review of members' salaries when it assumes its new powers, the Commons authorities said.
MPs' salaries have risen by more than £6,000 over the past five years. However, some commentators argue that MPs are underpaid given the nature of their responsibilities and their workload.
All ministers - who earn higher salaries than backbenchers - have agreed to take a 5% pay cut this year while their salaries will then be frozen for the rest of the current Parliament.