Prison votes 'will be kept to a minimum'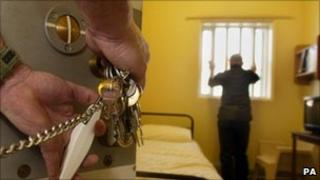 The government has promised to keep the number of prisoners given the vote to a "minimum", after being ordered to allow them to take part in elections.
Following a ruling by the European Court of Human Rights, ministers proposed allowing anyone serving less than four years the vote.
But the BBC has learned that they now want to limit the right to those sentenced to less than a year.
The government was seeking legal advice over the plan, Downing Street said.
But lawyers representing prisoners say anything less than full enfranchisement for all inmates would "almost inevitably" be challenged in court.
The initial voting plans faced strong opposition from Conservative MPs.
Prime Minister David Cameron recently said giving inmates the vote made him feel "physically ill" but warned that the government faced paying out more than £160m in compensation if it did not do so - a move which could be even more unpopular with the public than extending voting rights.
'Not arbitrary'
At present, all convicted prisoners are barred from voting, but the European court ruled in 2004 that such a ban was unlawful.
The government had indicated it was prepared to grant voting rights to all prisoners serving under four years.
However, the prime minister is now thought to accept that the Commons is unlikely to vote for a proposal that could involve granting the vote to up to 28,000 prisoners, including 6,000 jailed for violent crime, more than 1,700 sex offenders, more than 4,000 burglars and 4,300 imprisoned for drug offences.
Instead, the BBC understands that ministers are considering limiting the right to those prisoners sentenced to serve a year or less.
A Downing Street spokesman said the government wanted "to ensure that the minimum number of prisoners get the vote".
He added that a statement would be made "in due course".
The decision to set a lower sentence limit for those voting is not straightforward and the government would have to prove in court that Parliament had not acted in an arbitrary way in choosing it.
Lawyers had reportedly advised that a four-year limit would have been safe from legal challenge because it is the sentencing threshold for what are technically defined as "serious offences".
However, ministers are aware that many of the crimes below that level - violence, sexual assault, drugs - will seem too serious to many.
They are also aware that a one-year limit could be tested in the courts and that they might lose again.
Any concession may not persuade many MPs who want to make a stand against the Strasbourg court.
The Commons will have the opportunity to defy the court's ruling in a couple of weeks' time when it debates a motion tabled by the Conservative David Davis and Labour's Jack Straw.
John Hirst, a prisoner convicted of manslaughter, had successfully argued in the European Court that his human rights had been violated by not being allowed to take part in elections.
He told the BBC the government's attempts to water down the plans did not "have a cat in hell's chance" of succeeding.
"If I'd have gone to court and said I'm not accepting a judge's life sentence where would that put us?" he said.
"You have to accept that the law applies to everybody and it applies to the government, and David Cameron is not above the law and he'll find out that very shortly."
That sentiment was echoed by Sean Humber, a partner at law firm Leigh Day & Co, which is representing 550 prisoners suing over the denial of voting rights.
"Any attempt to limit the right to vote to certain prisoners, while excluding others, is likely to be unlawful and almost inevitably lead to further legal challenge and claims for compensation," he said.
A Cabinet Office spokesman said: "Removing the blanket ban on prisoners voting is not a choice but a legal obligation as a result of a court ruling.
"Failure to implement the ruling would not only put the government in breach of its international obligations but risk paying out taxpayers' money in compensation claims."
Shadow justice secretary Sadiq Khan welcomed the government's "U-turn".
He said: "The government should be standing up for the victims of crime but instead they are slashing police numbers and giving dangerous convicted prisoners the vote."
But the director of the Prison Reform Trust, Juliet Lyon, said the professionals running the penal system now felt it was time to enfranchise convicts.
"It's been described as 'nasty medicine'," she told the BBC, "when it should be seen as people taking responsibility."
The voting rights of prisoners is a UK-wide issue and will affect Scotland and Northern Ireland even though the administration of justice is devolved.
The Westminster government has said it will work closely with ministers in both regions before legislation is introduced.
Read a selection of your comments:
I am a former prisoner - 13 years inside - and I think some, but not all, prisoners should be allowed to vote. For example, those who are nearing the end of their sentence and are working in the community and paying taxes should not be excluded from the electoral system. Rehabilitation should be part of a prison sentence and prisoners should be taught how to be. Andrew Bell, Newcastle-upon-Tyne
What a lot of fuss about nothing. You'd think the government had bigger problems to address. What difference will it make if prisoners can vote? The only problem I can see is if they were allocated to the constituency containing the prison, which might conceivably create a special lobby group. As long as they are allocated to the constituency they last lived in what possible difference will it make? For one thing, it is unfair that one person can get a suspended sentence and be able to vote, while someone else guilty of the same offence can go to jail and lose that right. Dorothy Macedo, London
Imprisonment is the deprivation of liberty. The right to vote (as the American colonists taught us) is one of the clearest expressions of liberty. Therefore only those who have not been removed from society due to their own transgressions against their fellow citizens should have a say in shaping that society. Stuart Edwards, Hitchin, Hertfordshire
I was sentenced to three months for drink driving, my first ever offence at 33. I served two weeks, I would never have expected to be able to vote, I was doing my time. I had extenuating circumstances (don't we all?) but come on, pay your taxes, be a citizen, you get the right to vote. People who do not serve their country well should not be allowed to vote, full stop. Anonymous
Part of the punishment for convicted criminals should be that they forfeit the right to vote. The right to vote is not a basic human right, it is a privilege for those who live in a civilised society and accept its laws. By violating those laws you place yourself outside that society. The human rights legislation is one of the worst aspects of our European membership. Victor Bagnelle Snr, Lowestoft, Suffolk
As an ex-prisoner I think it is perverse that prisoners are allowed to watch the X-Factor, yet are not allowed to participate in something constructive. It is interesting now that Jack Straw's career is winding down that we see his true colours; be it attacking young Muslim males or this 'throw away the key' mentality. R Steele, Shipley
The right to vote in a democratic country is a basic human and universal right as a citizen. It is not subject to qualification by any government. Once that principle is ceded then dubious governments of every hue can claim the ability to set its own and safety; not to be subject to degrading or inhuman treatment, etc. Loss of liberty is the punishment for their crime(s), not the loss of their citizenship and human rights, amongst which is the right to vote for the government - which may determine the laws that effect/alter their sentence! Fr Ray Lyons, London
Should prisoners be entitled to vote? Certainly not! They have been incarcerated for a reason, and in my eyes have forfeited any rights to the 'pleasures' that we law-abiding citizens enjoy. Giving criminals the vote (regardless of their sentence) is a slap in the face of the ordinary person. Daniel Everitt, Glenrothes, Fife, Scotland
Prisoners are in prison for a reason, to be punished. They already appear to have life very easy - games stations, televisions, radios etc. They should not be allowed to vote as the whole reason behind prison, as said, is to punish and the right to vote is enjoyed by people who are free and law abiding. Did the criminals who want to vote think of the victims' human rights when committing the crime? I don't think so. Prisoners should have no vote, end of story. William, Northamptonshire
The opportunity to vote has been taken away from the unfortunate victim of Mr Hirst so if I was him I would just be grateful that I was still alive and leave it at that. My opinion is when you commit a crime (especially taking another persons life) you forfeit your rights that the law abiding citizens enjoy. Janice Shell, Middlesbrough, UK