Peer denies 'selective amnesia' over expenses advice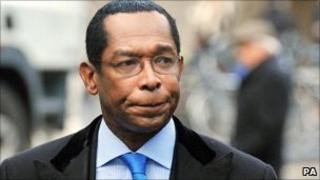 A Tory has peer denied "selective amnesia" over expenses advice given to a colleague on trial over his claims.
Lord Colwyn said he could not recall telling Lord Taylor he would be "crazy" not to designate a property outside London as his main home.
"I would deny ever saying that, that's not within the rules," he told jurors.
Lord Taylor is accused of claiming his nephew's address in Oxford was his main home in order to claim expenses to stay in London. He denies the charges.
The former Conservative peer faces six charges of false accounting relating to claims made for overnight subsistence and travel between 2006 and 2007.
Prosecutors say he was actually living in west London at the time and lied on the forms about his main home being in Oxford, so he could make claims for overnight stays and travel.
But his defence argues that peers are not paid a salary and Lord Taylor had been told by colleagues that what he was doing was acceptable.
'Crazy not to'
The defence says Lord Colwyn advised Lord Taylor "frankly you would be crazy not to" designate a property outside London as his main home, as long as there was a family connection, in order to make claims to stay in London.
But the Tory peer told the court: "I would deny ever saying that. That is not within the rules. I can assure you I never would have suggested it."
Defending, Mohammed Khamisa QC said: "You advised him to nominate an address, provided there was some family connection because you said that was what a large number of peers were doing at the time."
Lord Colwyn said that was "extremely unlikely" but he said he did not recall the conversation directly.
Mr Khamisa pressed him on the conversation, said to have taken place at a dinner at the Metropole Hotel in London at which he sat next to Lord Taylor.
The peer said: "You are going back now five to six years, to expect me to recall a conversation at a dinner, of which I go to hundreds, is really asking a bit too much."
Asked again about the phrase "frankly you would be crazy not to", Lord Colwyn said: "I didn't say that."
'Selective amnesia'
Mr Khamisa asked him to "search your conscience", to which the peer replied: "I certainly would not have used those words."
The defence lawyer suggested Lord Colwyn was now denying the conversation because he was afraid of criticism.
Lord Colwyn rejected that suggestion and said he had been wrongly accused over his own expenses by a national newspaper and had got an apology.
But Mr Khamisa asked: "Are you having selective amnesia?" Lord Colwyn replied: "I'm certain that is not correct, those are not the words I would have used.
"I would not have ever suggested anything was claimed in the House of Lords that was in any way dishonest. I have been there a long time and I'm afraid I can't agree with you."
He also said he could not recall a conversation the defence says he had with Lord Taylor in 2001 in the Royal Gallery of the House of Lords in which homes outside London and the family connection was mentioned.
When told he had said the Lords expenses system "was ridiculous" - because of the hours peers worked, Lord Colwyn told the court: "It may have been discussed as light hearted banter at some stage but I don't recall it being an issue of serious discussion."
Mr Khamisa suggested a "very large number of peers" regarded expenses as a form of salary and said expenses were a "bone of contention" in the Lords.
Lord Colwyn said: "I have heard it but if you are going to worry about that, for Heaven's sake, go out and get a job somewhere else. You don't have to be a peer."
However he said he was not surprised to hear that 85% of peers claimed the maximum allowance and said he imagined new peers were advised to claim the maximum they were entitled to - because the expenses did not always cover costs.