Speaker John Bercow under fire over hunt ban support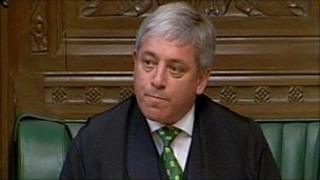 Commons Speaker John Bercow is at the centre of a fresh row over his impartiality after he revealed he backed the hunting ban.
The Buckingham MP told a constituent he agreed hunting foxes to kill them was "wrong in the 21st Century".
A constituency spokesman said it was Mr Bercow's "duty" to represent his constituents' views.
But Conservative minister Alan Duncan said Speakers should not express party political opinions.
The international development minister told BBC News: "The most important quality in any Speaker is his impartiality.
"Of course he has to look after his constituents, but he should be a step removed from any party political opinion."
Some Conservative MPs are hoping to repeal the Hunting Act when it comes back to the Commons.
The coalition agreement promises a free vote on the issue, although no date for the debate has been set, with some press reports suggesting Prime Minister David Cameron was keen to delay it to avoid a potentially damaging row with his Lib Dem coalition partners.
'Compelling argument'
Mr Bercow was against the ban when he was a Conservative MP, but now appears to have changed his position.
Mr Bercow wrote to Buckingham constituent Clive Preston on 6 January saying there was a "compelling" argument for the ban.
"The public as a whole support the legislation and consider that hunting foxes with a view to killing them is wrong in the 21st Century. I support that view," he wrote.
Mr Preston, an opponent of the ban, told The Times that he had previously asked his friends in Buckingham to support Mr Bercow because "he was a sound man on hunting".
He added: "He is devaluing himself and becoming a laughing stock."
Mr Bercow's office said the letter had not been written on his official Speaker's stationery, as reported in The Times, but on notepaper bought with his Parliamentary expenses in his capacity as an MP, although it did say "The Speaker" on it at the top.
A senior official in the Speaker's Buckingham constituency has told the BBC that his comments on fox hunting would be "very damaging for him locally".
The source told the BBC "there will be a good number of people who will be very fed up with this".
However, the source, who is on the constituency's management committee, said it was unlikely any move would be made against Mr Bercow locally.
Mr Bercow is already under fire from some Conservative MPs, amid accusations he is closer to the Labour side of the House.
One senior Conservative MP said: "If the House of Commons could see an opportunity to get rid of him, which would work, they would jump at it."
But Mr Bercow's wife, Sally, who stood for Labour in last year's council elections, has hit out at the "whispering campaign" against him.
"The bottom line is a lot of Tories, I'm afraid, still can't accept that my husband won the speakership fair and square and is doing a very good job and he did it without Tory support," she said.
A constituency spokesman for Mr Bercow said: "The Speaker, who was re-elected to the Buckingham seat as the Speaker seeking re-election, uses the same stationery for every letter he writes in his capacity as Member of Parliament for Buckingham which is purchased from his Parliamentary allowance.
"In this letter the Speaker was offering to pass on the concerns of this constituent to the relevant minister even though in the interests of transparency he was pointing out that these were not views that he shared.
"Parliament is not facing any debate on this issue and there is no conflict between serving a constituent and fulfilling his role as Speaker.
"It is Mr Bercow's duty both to represent his constituents and articulate his views to them as appropriate.
"His role is to be neutral in the chamber but not neutered as a constituency member."