Jeremy Hunt outlines plans for 'local TV'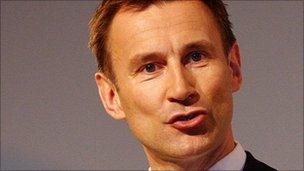 Culture Secretary Jeremy Hunt has invited companies to run local TV stations and make the proposed new services a reality.
Addressing broadcasting executives at the Oxford Media Convention, he said the initial schemes would be focused on "10 to 12" major cities.
He asked firms to register an interest by 1 March.
Licences for local - rather than regional - television services are to be handed out before the end of 2012.
Mr Hunt has long championed the concept of US-style local television, where many cities, rather than wider regions, have their own news and entertainment coverage.
In a speech to the convention, he said: "To make this vision a reality I am today inviting existing and new media providers to come forward with suggestions as to how this network channel - or local TV 'spine' - could work.
"For consumers what this will mean is a new channel dedicated to the provision of local news and content.
"One that will sit alongside other public service broadcasters, offering a new voice for local communities, with local perspectives that are directly relevant to them.
"We will not be prescriptive. We will wait for the necessary technical assessment to be completed and we will listen to the commercially viable proposals that come forward.
"Our goal is to be able to award the relevant licences by the end of 2012, and for local TV to be up and running soon after."
Mr Hunt continued: "It is easy to be patronising about hyper-local services, but take a look at the evidence of what consumers truly value.
"Eight out of 10 consider local news important. Nearly seven out of 10 adults feel localness of stories is more important than them being professionally produced."
He added: "People in Barnham don't want to watch what is going on in Southampton. People in Chelmsford aren't interested in what's happening in Watford. That is the system we currently have at the moment, so that is what we are trying to rethink."
However, Mr Hunt conceded that 24-hour-a-day local news and programming was "not viable".
A panel set up by the government said local television channels might start by broadcasting in only 10 to 12 areas, adding it would take "significant effort" to make the plan a success.
In an interview at last year's Edinburgh International Television Festival, Mr Hunt described the UK media as "chronically over-centralised".
He said: "It is crazy that a city like Sheffield, for example, does not have its own television station like it would have in most other developed countries."
Related Internet Links
The BBC is not responsible for the content of external sites.