Nephew tells trial of shock at peer's expenses claim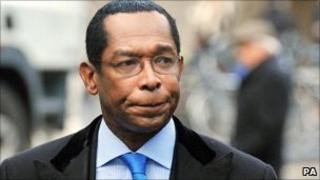 A relative of a peer standing trial over his expenses has said he was shocked to learn his address had been used on claim forms.
Lord Taylor of Warwick denies false accounting charges relating to expenses for peers who lived outside London.
His half-nephew, Robert Taylor, told the trial he was "quite angry" to hear his Oxford home had been cited on forms submitted by Lord Taylor.
The prosecution says the peer lived in London and never visited the property.
Former Tory peer Lord Taylor, 58, denies six charges of false accounting, over expenses claims amounting to £11,277 made in 2006 and 2007.
The case relates to the expenses peers can claim if they do not live in London, to cover the costs of staying near Parliament and travel.
'Door stepped by media'
The trial at Southwark Crown Court has already heard Lord Taylor submitted claims for mileage and subsistence stating his main home was in Oxford.
But the prosecution says he lied on the forms, had no legal or financial interest in the Oxford property and that he lived in Ealing, west London.
On Tuesday, Robert Taylor told the court he had lived at the house in Oxford for eight years, and the property was owned by his partner, Tristram Wyatt.
Asked what happened when he heard the address had been used by Lord Taylor on his claim forms, he said: "I was shocked, I was quite angry actually, because I had always wondered why he had been quite so friendly, because we didn't on the face of it have a lot in common."
Mr Taylor added: "At the point where we were being door stepped by the media, I suddenly realised that maybe his wasn't actually a real friendship at all."
Mr Wyatt told the court his reaction had been one of "great surprise" when he learned that his property had been cited by Lord Taylor as his main residence. Asked why, he replied: "Because he didn't live there."
Clerk of the Parliaments Michael Pownall also told the court that the expenses scheme had relied on self-certification.
But while he agreed with a suggestion it was "lightly policed", he denied the scheme was "vaguely drawn".
He also rejected a suggestion that the expenses scheme was being used as a "surrogate wage".
"I don't think I could sign up to that," he said.
"It's a system of reimbursement, but without receipts, up to certain maximum allowances."
'Natural meaning'
He agreed that peers were not asked about ownership of their designated main residence or how often they visited it but added: "Main residence has a natural meaning for the term, that most members would take into account."
Lords finance manager Maureen Buck said the details supplied on the claims form matched the address they had on record at the time.
Defending, Mohammed Khamisa QC, told jurors on Monday that Lord Taylor was not a wealthy hereditary peer and had given up his job as a barrister.
He said: "You will hear that others with whom he worked, other peers he spoke to, had all told him that what he was doing was acceptable."
He added: "Peers in the House of Lords are not paid a salary but an allowance system is in existence, since about 1958, enabling those like John Taylor, who don't come from a hereditary background, to claim expenses.
"And by 2006, by the time John Taylor was in the House of Lords, they had evolved a system where new peers were encouraged to claim the maximum allowance because it was recognised that if you were going to ask people to give up their day jobs, they have to be compensated in another way."
He said peers treated expenses "as something in lieu of a salary".
"He didn't consider it dishonest. He didn't consider it misleading or untrue. It was commonplace."