Jack Straw and David Davis secure prison vote debate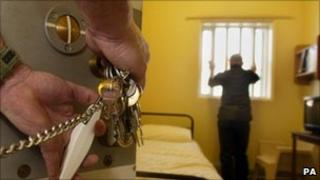 Labour's Jack Straw and Conservative David Davis have succeeded in their bid to secure a Commons debate on plans to give thousands of prisoners the vote.
The former home secretary and shadow home secretary convinced a new Commons committee to grant a vote.
The pair want the government to defy a ruling by the European Court of Human Rights (ECHR).
Ministers say if they do not change the law they will face compensation claims from prisoners costing well over £100m.
They plan to give any prisoner serving less than four years a vote in Westminster and European elections.
Mr Straw and Mr Davis, whose pitch was to the new Commons Backbench Business Committee, will have their debate before the half-term recess in February, the BBC understands.
The government will ultimately decide which slot in Commons proceedings the debate will be held.
The two men made use of new Commons rules which give backbenchers control of parts of the parliamentary timetable.
Real problem
They argue that the Commons should be given the chance to stand up to the ECHR and defy what they see as an illegitimate challenge to a democratically elected Parliament.
Mr Straw, who delayed responding to the ECHR ruling when he was the responsible minister under Gordon Brown, denied that he was trying to cause trouble for the government.
"This is a really tricky issue - I had to handle it for three years in the knowledge that there was no majority in the House of Commons for change at that time," he said.
"If I was secretary of state Ken Clarke I would actually welcome this debate because it would strengthen my hand for dealing with Strasbourg."
Mr Straw added: "One of the main arguments of the Strasbourg court is that there has not been a substantive debate on the policy.
"What we are saying is let's have an early debate on the policy now."
Mr Davis described the ECHR's attempt to dictate to the British Parliament as a "crisis".
"We've got a crisis here which has been brought about by the court extending its own power, trying to overrule in effect a parliament," he said.
"It's for Parliament to stand up and say 'no, this is our decision, not yours' and then for the Government to go back and seek a solution."
He added: "I yield to no-one in my defence of human rights, but giving rapists the vote is not human rights."
Many Tory MPs have threatened to rebel on the issue. They are angry not only at the idea of giving the vote to prisoners but at the power of the ECHR.
The Conservative manifesto promised to amend the Human Rights Act - a plan which has since been put on the back burner.
Labour have said that they may vote with Tory rebels so a parliamentary defeat for the government cannot be ruled out.
The Liberal Democrats have consistently argued for a change in the law.
The government's proposals could involve giving the vote to many thousands of offenders in England and Wales.
Legal victory
More than 28,000 prisoners have sentences of less than four years including almost 6,000 jailed for violent crime, over 1,700 sex offenders, more than 4,000 burglars and 4,300 imprisoned for drug offences.
The precise number of prisoners eligible to vote may be lower since a small number of those serving four-year sentences may be concurrently in jail for longer terms and will still, therefore, be barred.
This argument was triggered by the legal victory of a prisoner called John Hirst who had been convicted of manslaughter and argued that the voting ban was incompatible with the Human Rights Act.
Last year the European Court of Human Rights set the government a deadline for a change in the law of August 2011.
Ministers said legislation would be passed before MPs' summer break but rebels suspect that they are waiting until after May's elections to introduce it. Mr Davis and Mr Straw are moving to ensure that that vote is held sooner rather than later.
Mr Straw was first home secretary and later Lord Chancellor in the last Labour government, which launched a consultation on granting votes to prisoners but never acted on it. Mr Davis was shadow home secretary when the Conservatives said they would oppose any such move.
Their motion reads: "This House... is of the opinion that A) legislative decisions of this nature should be a matter for democratically elected lawmakers and B) that on the merits of the issue the current policy... is confirmed."
The Commons Backbench Business Committee controls the subject for debate on 35 days a year, although the timing is up to the government.
Mr Straw and Mr Davis were competing with other proposals on the reform of Parliament and consumer credit regulation.
The voting rights of prisoners is a UK-wide issue and will affect Scotland and Northern Ireland even though the administration of justice is devolved.
The Westminster government has said it will work closely with ministers in Scotland and Northern before legislation is introduced.