Board games, talks and other treats for all night Lords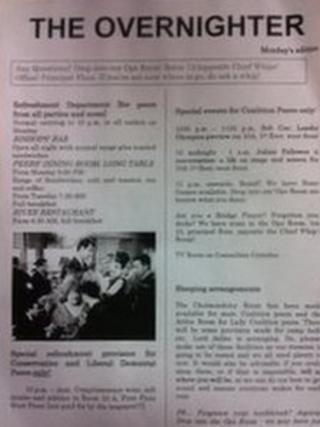 The BBC has obtained an extraordinary government news sheet packed with advice for coalition peers sitting through the night in the House of Lords.
Called "The Overnighter", it tells Conservative and Liberal Democrat peers where they can find food, entertainment and a place to sleep throughout the all-night sitting.
The House of Lords is debating the government's plans to hold a referendum on electoral reform in May.
Labour peers say more time is needed to examine the legislation and are delaying the bill's progress.
The Overnighter tells peers that the whips have laid on some interesting talks to keep them entertained through the evening.
There was, for example, on Monday Sebastian Coe on the Olympics at 2230 GMT followed by the newly ennobled Julian Fellowes - the man behind Downton Abbey - "in conversation: a life on stage and screen" from midnight to 0100 GMT.
The document continues: "11pm onwards. Bored? We have board games available. Drop into our Ops Room and borrow what you fancy. Are you a Bridge player? Forgotten your own decks? We have some in the Ops Room. TV room in Committee Corridor."
Forgotten your toothbrush?
As for food, The Overnighter tells peers the Bishops' Bar will be open all night "with normal range plus toasted sandwiches".
On the long table of the peers' dining room, there is a range of sandwiches with tea and coffee.
Then it adds: "Special refreshment provision for Conservative and Liberal Democrat peers only! 10pm to 2am complimentary wine, soft drinks and nibbles in Room 10A (not paid for by the taxpayer!)".
For the hardy, there is full breakfast in the River Restaurant from 0630 GMT.
As for sleeping arrangements, the news sheet says: "The Cholmondeley Room has been made available for male coalition peers and the Attlee Room for Lady Coalition peers.
"There will be some provision made for camp beds etc. Do please make use of these facilities as our stamina is going to be tested and we all need plenty of rest.
"It would also be advisable if you could sleep there, or if that is impossible, tell us where you will be so we can do our best to get round and ensure everyone wakes up for each vote."
There is a PS: "Forgotten your toothbrush? Aspirin? Drop into the Ops Room - we may have just what you need in store."
The news sheet is subtitled, "Monday's edition", so it suggests the government expects there to be more than one evening when peers will have to go through the night.