Minimum alcohol price levels planned by coalition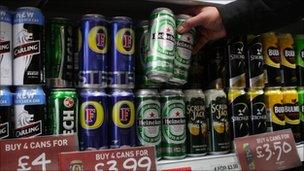 Ministers have unveiled plans to set a minimum price for alcohol in England and Wales.
They say banning shops and bars from selling drinks for less than the tax paid on them will cut crime and set a "base price" for the first time.
It works out at 38p for a can of weak lager and £10.71 for a litre of vodka.
Health campaigners say that is too low to have an impact, but the drinks industry described the proposals as a "pragmatic solution".
In their coalition agreement, the Conservatives and Lib Dems pledged: "We will ban the sale of alcohol below cost price."
Under government proposals the ban is on sales of alcohol below the rate of duty plus VAT, rather than including the cost of producing the drinks.
Home Office Minister James Brokenshire told BBC Radio 4's World at One: "Duty plus VAT is a basic definition of what the cost of those products are and we wanted something that was workable and that was actually compliant with competition law as well, so it could be introduced."
Mr Brokenshire said the plans for England and Wales would have an impact, citing Home Office modelling which suggested the new "floor" on alcohol price would prevent around 7,000 crimes a year - 2,000 of them violent and target products associated with problem drinking.
The policy was "an important first step," he said, adding the government would keep the policy under review: "This is not the end of this."
"I think it's very clear that we are actually setting a base price for the first time in this country - it won't be possible to sell alcohol below duty plus VAT and that does provide that floor."
But Professor Ian Gilmore, of the Royal College of Physicians, told BBC Radio 4's Today programme: "It's a step in the right direction but I have to say, it's an extremely small step. It will have no impact whatsoever on the vast majority of cheap drinks sold in supermarkets."
Local shopkeepers questioned by the BBC News website said the government's proposed minimum prices were far below what they had to charge.
Researchers at Sheffield University estimated last year that raising the price of alcohol to a minimum of 50p per unit would mean that after a decade there would be almost 3,000 fewer deaths every year and 41,000 fewer cases of chronic illness.
Prof Gilmore said a tiny amount of drinks were currently sold below duty plus VAT, but added that if the argument was being accepted that cheap drinks were fuelling alcohol problems the minimum might be "eased up in the right direction".
In practice, he said, the proposals would have "no effect at all on the health of this nation".
The British Medical Association said the proposals would not make much difference and Don Shenker, chief executive of Alcohol Concern, urged ministers to look again at a minimum price per unit of alcohol: "Duty is so low in the UK that it will still be possible to sell very cheap alcohol and be within the law."
A 50p-per-unit minimum was backed by health campaigners but the Home Office proposal is for a lower minimum price of about 21p per unit of beer and 28p per unit of spirits.
It means the lowest possible price of a can of lager would range from 38p to 78p depending on its strength, but most drinks would be unaffected.
Mr Brokenshire said the government had targeted "deep discounting" of alcohol, arguing that minimum unit pricing "effectively penalises everybody rather than being focused on either those products or people who may be consuming alcohol in a way that is harmful to society."
Gavin Partingdon, of the Wine and Spirit Trade Association, said the proposals were a "pragmatic solution" which addressed some of the concerns about cheap alcohol without affecting moderate drinkers.
He said they would stop retailers selling below cost price, although he accepted the amount of alcohol sold at below the level of duty and VAT was "fairly minimal".
He said the 50p per unit minimum backed by campaigners went "way beyond what really the ordinary public want to pay" adding: "Those who have the most problem with alcohol are least likely to be deterred by price increases."
Richard Taylor, director of corporate affairs at Morrisons supermarket chain, told the BBC the proposals provided the government with "a guaranteed lever which it can use to set a floor price for alcohol".
He added: "For the first time, if a chancellor raises duty as he may well do at the next Budget, then that would require all of that duty to be passed on to the customer in a way in which previously - potentially - some retailers may have absorbed that cost."
Drinks giant Diageo said the government should "concentrate on raising awareness of the dangers of alcohol misuse" and on enforcing existing licensing laws.
Last year, the Scottish Parliament rejected plans for a minimum price per unit of alcohol of 45p, amid claims it would penalise responsible drinkers and could be illegal under European competition law.
BBC News website readers have emailed their reaction to the government's plans. Here is a selection of comments:
Related Internet Links
The BBC is not responsible for the content of external sites.