Lord Taylor made deceptive expenses claims, court hears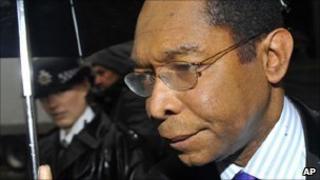 A former Tory peer made "false, deceptive" claims for expenses to which he was not entitled, a jury heard.
Lord Taylor of Warwick has gone on trial denying six counts of false accounting - amounting to £11,277.
Prosecutor Helen Law said he made claims for mileage and subsistence on the basis that his main home was in Oxford - but really lived in London.
Lord Taylor, 58, who joined the Lords in 1996, resigned the Conservative Party whip soon after being charged.
Opening the case against him at Southwark Crown Court, Ms Law said Lord Taylor had submitted forms saying his main residence was in Oxford and had made claims for travelling 59 miles between Oxford and London, and for night subsistence to pay for his upkeep in London.
But she told jurors that Lord Taylor, of Lynwood Road, Ealing, west London, never stayed at the Oxford address, where his half-nephew lived, and had agreed he had no legal or financial interest in it. The only address he lived at during that period was Ealing, she said.
The charges relate to claims made between March 2006 and October 2007. Lord Taylor sent claims to the members' expenses section of the House of Lords finance department and the money was paid, the court heard.
State of mind
Ms Law said he had lied on the forms.
"The only real issue in this case is Lord Taylor's state of mind when he submitted these forms," she added.
"Did he know that they may be false, deceptive or misleading in a significant way? Was he acting dishonestly when he submitted them? Was he intending to make a financial gain?
"We say he must have known the forms were false, deceptive and misleading. He must have known that to do so was dishonest and that he would get money in return for submitting the forms."
Earlier jurors were warned to try the case on the evidence and ignore anything they heard or read outside the courtroom - in the press or on the internet.
Judge Mr Justice Saunders told them: "This is a case on which almost everyone will have a view they wish to express.
"Do not announce on Facebook or Twitter that you are on this jury, as you will simply invite comment, and do not reveal your impression of the case."