Tories whispering against Bercow, says wife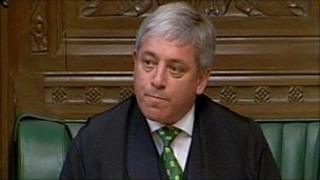 The wife of Commons Speaker John Bercow has accused Conservative MPs of running a "whispering campaign" against him.
Sally Bercow said many in the party could not accept he had been elected to the role "fair and square".
Mr Bercow, himself an ex-Tory MP, has had several run-ins with former colleagues unhappy at their treatment.
But Mrs Bercow told Sky News such rows were "ridiculous" and that her husband was not biased towards Labour but "on the side of backbenchers".
In the latest confrontation, senior Conservative backbencher Mark Pritchard swore at the Speaker in a behind-the-scenes confrontation in the Commons, accusing him of behaving like "royalty".
Tory chief whip Patrick McLoughlin and health minister Simon Burns have also clashed with Mr Bercow, while Tory MP Nadine Dorries has been highly critical.
Mr Bercow - who had long been seen as a maverick by many in the Conservative Party - won the Speakership in 2009, mainly because of the backing of Labour and Liberal Democrat MPs.
His wife, who ran unsuccessfully to be a Labour councillor last year, said: "The bottom line is a lot of Tories, I'm afraid, still can't accept that my husband won the speakership fair and square and is doing a very good job and he did it without Tory support.
"He only had 20-odd Tory MPs backing him and as a result they have got no hold over him and they don't like it.
"There will always be a whispering campaign but if you look at John and what he has done in the job, he has introduced a lot of urgent questions. Basically he is on the side of backbenchers.
"He is not on the side of Labour MPs. He is not on the side of Tory MPs. He is on the side of backbenchers and that is what he is trying to do."
Mr Bercow was elected Speaker after predecessor Michael Martin resigned following criticism of his handling of the MPs' expenses scandal.