Tories avoided nastiness in Oldham , says Eric Pickles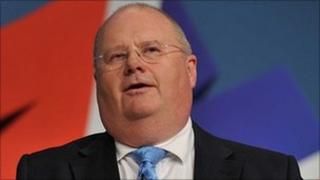 The Conservatives fought a "gentle" campaign for the Oldham East and Saddleworth by-election, Communities Secretary Eric Pickles has said.
The Tories came third behind Labour and the Lib Dems, with some critics saying they had not tried hard enough to win.
But Mr Pickles said his party had wanted to avoid the "nastiness" shown by Labour at the general election.
The by-election was called after sitting Labour MP Phil Woolas was removed for lying about an opponent.
Lib Dem Elwyn Watkins lost by just 103 votes at last May's general election.
'We were trying'
He complained about the actions of Mr Woolas, the former immigration minister, towards him, which prompted a court to invalidate the result, leading to the by-election.
But, in last Thursday's vote, Labour took the seat with an increased majority of 3,558, with its candidate Debbie Abrahams beating Mr Watkins by 14,718 to 11,160.
Conservative Kashif Ali was third with 4,481 votes, as support for the party fell away. Some commentators complained that the Tories had held back in order to give the Lib Dems - their partners in the coalition government - a better chance of defeating Labour.
But Mr Pickles told Sky News: "We were third [at the general election in the constituency] and we came third again. But by and large it's very unusual for a governing party to win a by-election at a time of austerity."
He added: "We started third and of course we fought a very gentle campaign because that particular campaign was about the nastiness of previous Labour leaflets.
"The Liberals did, I think, pretty good. They increased their poll position. But it would have been a disaster for the Labour Party had they lost."
Asked whether the Conservatives had mounted a serious campaign, Mr Pickles, a former party chairman, said "Of course we were trying. We had the prime minister up there, first prime minister to, I think, canvass in a by-election for years."
He insisted that, at the next general election, he would be urging people to vote Conservatives, even in seats where the contest was primarily between Labour and the Lib Dems.
Mr Pickles said: "I think that when that occurs in 2015 you will have two political parties defending a government, a coalition's record.
"But we are two distinct political parties and I certainly will be urging everyone at that election to vote Conservative."