Clare Short 'interested in becoming Birmingham mayor'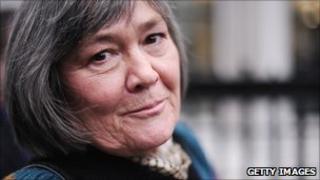 Former Labour minister Clare Short has told the BBC she is interested in becoming Birmingham's first directly elected mayor.
But the former Birmingham Ladywood MP said it would not be "a happy job" if the mayor was required to implement swingeing cuts imposed by "a slash and burn government".
A referendum on creating an elected mayor will be held in the city in 2012.
Ms Short also said Ed Miliband had been "the best option" for Labour leader.
If Birmingham votes in favour of an elected mayor in May 2012, elections for the post would be held in May 2013 and successful candidates would serve four-year terms.
Ms Short was asked in an interview with BBC WM whether she would like to run for the post.
She said: "I am interested possibly, but, of course, one of the problems might be that if we get a slash and burn government cutting everything all over the place, and then we get an elected mayor who's got to implement the cuts, that wouldn't be a happy job."
'Bruising'
The former international development secretary also told the BBC she thought Mr Miliband' was a "good young man".
"I think Ed Miliband was the best option for leader.
"The fact that he apologised over Iraq, said we should do more about the siege of Gaza, too much loss of civil liberties, too much bureaucracy in public sector reform... All of these are good things, but it's early days.
"He's a young man, we will see."
Ms Short quit Tony Blair's cabinet two months after the March 2003 invasion of Iraq, in protest at planning for the war's aftermath.
She subsequently resigned from the Labour Party, becoming an independent MP.
"For me, the Labour Party is almost like my second church... and the bruising and dishonesty of Iraq still keep me away from it," she added.
Ken Livingstone became London's first directly elected mayor in 2000 and was succeeded by Boris Johnson in 2008.
As well as Birmingham, Coventry, Bradford, Bristol, Leeds, Leicester, Liverpool, Manchester, Newcastle upon Tyne, Nottingham, Sheffield and Wakefield will all be able to hold referendums on mayors in 2012.
David Cameron said last week that directly elected mayors "with clout and passion to make change happen" would help regional cities compete more successfully with London.