Tory MP Mark Pritchard 'regrets' swearing at Speaker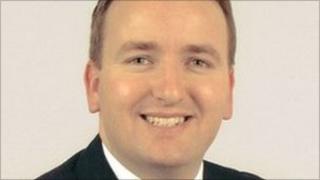 Conservative MP Mark Pritchard has told the BBC he "regrets" swearing at Speaker John Bercow during an encounter in the Commons corridors.
The two men traded verbal blows on Thursday, after falling out over a procedural point in the chamber.
Mr Pritchard told the BBC he did not regret making a stand, but wished he had not used "colourful language".
He told BBC Radio 4's PM he was not the first MP to be the target of Mr Bercow's "impoliteness".
The Speaker had prevented Mr Pritchard from asking a question in the Commons on Thursday, saying he had missed the start of a debate.
Mr Pritchard, who is deputy chairman of the influential backbench 1922 committee, wrote a letter of complaint to Mr Bercow, which he hand delivered to his office, before encountering the Speaker in a corridor.
Courtesy
The MP said Mr Bercow stopped, turned and "looked back in anger and was very rude to me".
He told PM: "I am no doormat - my constituents know I am no doormat - and I am not going to be spoken to in those terms.
"I regret the colourful language that I used but I don't regret making a stand, both for me personally and for my constituents."
When the incident first emerged on Thursday, it was reported that Mr Pritchard had refused to stand aside for Mr Bercow and his official entourage, as MPs are obliged by convention to do.
The Speaker is reported to have said to the MP: "The courtesy of the House is that Honourable Members should stand aside when the Speaker passes by."
Mr Pritchard is said to have replied: "Mr Speaker, don't point at me. I am not here to be abused by you."
Bercow: "You will obey the courtesies of the House!"
Mr Pritchard is then reported to have said: "You are not royalty, Mr Speaker!" with a rude adjective inserted into the sentence.
The line has now been emblazoned on T-shirts, which are being sold on the internet.
The speaker, who is not universally popular on the Conservative benches, is said to be concerned about a breakdown in courtesy in the Commons and sources have indicated he wants to meet party managers to discuss the issue.