Civil service union rejects redundancy scheme changes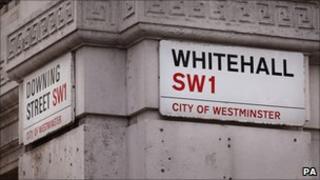 Ministers face a legal challenge over the civil service redundancy scheme after changes were rejected by members of the main Whitehall union.
The Public and Commercial Services union said 90% of its members refused to back the reforms surrounding the payouts due to laid-off civil servants.
The union will mount a legal challenge in the High Court in London next week.
The government is keen to reform the system, saying it is too expensive to continue in a climate of austerity.
The Public and Commercial Services (PCS) union said more than 80,000 of its members, a third of those balloted, took part in the vote.
Fresh action
PCS general secretary Mark Serwotka said: "Our members have sent a crystal-clear message that they will not tolerate their contracts being ripped up simply to allow the government to slash jobs and public services."
The union said civil servants stood to lose tens of thousands of pounds.
Other civil service unions have accepted the scheme, announced by the government last year, although the Prison Officers Association has yet to decide.
The PCS said it would pursue fresh legal action after changes planned by the previous Labour government were overturned by the courts.
The union will call for a judicial review, arguing that the government was breaching a European human rights convention.
The union's leaders called on ministers to "reopen negotiations in the light of this ballot decision".
The PCS said compensation payouts could be reduced "at will" at a time when spending cuts were expected to lead to job losses in the civil service.
'Fair deal'
The Cabinet Office wants to cap redundancy payments to 21 months' salary for voluntary redundancies and 12 months' salary for compulsory job losses.
Cabinet Office Minister Francis Maude described the ballot result as "disappointing".
"But let's not forget the recent changes to the Civil Service Compensation scheme were developed in constructive negotiations with some of Britain's most powerful trade unions," he said.
"As the general secretary of [trade union] Prospect has stated publicly 'negotiators on both sides showed flexibility and determination in getting the deal done' and it's a deal we believe is fair for civil servants and for other taxpayers."
He added: "I cannot stress enough that with a national debt that has doubled and the biggest budget deficit in the G20, today's decision by those PCS members who have rejected reform cannot deter us from our absolute obligation to look for efficiency savings wherever we can, so we can do everything we can to protect public sector jobs."
The union also said 96% of its members voted to support its national campaign against cuts alongside other unions and community groups - which could ultimately lead to industrial action.
Mr Serwotka said: "There is an alternative to the spending cuts, which would see us invest in our future and target those wealthy individuals and organisations who go to great lengths to avoid paying tens of billions of pounds in taxes and starve our economy of vital revenue."