Baroness Warsi warns Tory by-election critics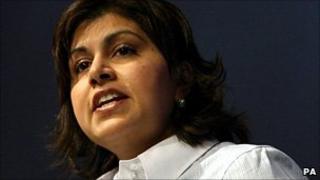 Baroness Warsi has fired a warning at Conservative critics of the Oldham East and Saddleworth by-election.
The party came third in Thursday's poll - prompted by a court ruling against Labour's Phil Woolas - and its share of the vote more than halved.
Some activists and MPs have complained the Tories ran a soft campaign to aid their Lib Dem coalition partners.
Tory co-chairman Baroness Warsi said they did not have the right to complain if they did not take part themselves.
Asked about potential discontent among right wing Conservatives, she told BBC Radio 4's Today programme: "We had many many, members of Parliament turning up, we had some who made much comment about the fact that we weren't fighting a strong enough campaign but interestingly didn't turn up to campaign.
"I would say to those who are critical: 'Unless you were here, unless you were out delivering and unless you were knocking on doors, you really don't have a right to complain about us not being vigorous enough'."
Labour retained the Greater Manchester seat in Thursday's by-election with 14,718 votes - a majority of 3,558 and a 42.1% share of the vote.
Soft pedalling denied
The Lib Dems came second on 11,160 votes, and slightly increased their vote share to 31.9%, from 31.6% in 2010. The Tories got 4,481 votes - down from 11,773 in the May general election and their share of the vote fell from 26.4% to 12.8%.
Last week the Guardian reported that, at a cabinet meeting before Christmas, Conservative minister Andrew Mitchell argued that the party should do everything in their power to help the Lib Dems win the seat - and Prime Minister David Cameron had expressed gratitude to him for the intervention.
The Telegraph suggested in December that the PM had called off a campaigning push in the Greater Manchester constituency, to boost Lib Dem chances.
But the Conservatives have denied "soft pedalling" in the campaign. Baroness Warsi told the BBC: "It was resourced properly. We had volunteers on the ground. We had professionals on the ground. We had a great local candidate. We had professional literature, some of the first election addresses to hit peoples' doors."
The Tory candidate, Kashif Ali, said he did not blame his defeat on the party, telling the BBC it was a reflection of local issues.
However Tim Montgomerie, of the ConservativeHome blog, said Tory activists would take what he claimed was the failure of the Conservatives to mount a full-blooded campaign in Oldham East as a further sign that Mr Cameron was planning a more permanent alliance with the Liberal Democrats.
"A lot of Conservatives are still coming to terms with the fact that Cameron could not win a general election. Now they are seeing the party give up a seat of the kind that they should be winning," he said.
'Let down'
Responding to Baroness Warsi's criticisms, he said: "She should be defending her own campaign rather than lashing out at others".
Mr Montgomerie said by-elections were "won and lost in the first two weeks of the campaign" and Mr Cameron's appearance in the constituency last week would not have been enough to influence the outcome.
He also claimed there was polling evidence that voters in the constituency had received less election literature than from the other parties.
Backbench Conservative MP Douglas Carswell said Tory candidate Kashif Ali had been "let down" by the party leadership after Mr Cameron wished the Lib Dems well in the contest at a press conference last year.
"It is usually a good idea if you want to do well as a party to make it clear that you are serious about trying to win," he told the London Evening Standard.
"We have paid the price on the doorstep and our leaders should reflect on that."