Gove in attack on 'outrageous' behaviour of banks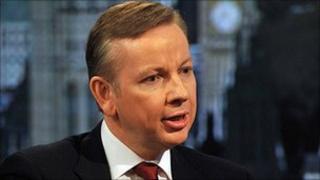 Michael Gove has said the behaviour of banks has been "outrageous" and they have to show "they get it" over bonuses and lending to small businesses.
The education secretary told the BBC's Question Time he disagreed with Barclays boss Bob Diamond that the "time for remorse" from banks was over.
But he defended the coalition's bank levy in the face of Labour attacks.
Labour's Diane Abbott said ministers did not understand public anger and should call the "banks' bluff".
Ministers have come under pressure to act amid reports that the chief executives of two banks bailed out by the taxpayer in 2008 are in line for bonuses worth millions of pounds this year.
The government has said it cannot dictate what bonuses Royal Bank of Scotland and Lloyds Banking Group pay their top executives but has pressed them to show responsibility in the current tough financial climate and sensitivity to public opinion over the issue.
'Parallel universe'
Treasury officials are holding talks with the banks and Chancellor George Osborne is keen to secure a "settlement" with them over remuneration and boosting loans to businesses.
Asked on Question Time whether banks needed to be subject to either "legislation or castigation", Mr Gove replied "both".
In a strong attack on the City, Mr Gove said bank bosses had paid themselves "astronomical" sums and "appear to me to be living in a parallel universe to the rest of us".
"The sense of contrition for what went wrong in the banking crisis seems to be invisible," he added. "The banks have to show they get it."
He said the coalition's levy on bank balance sheets was a better way of making sure companies made a fair contribution to tackling the deficit than extending Labour's bank bonus tax.
The government and the opposition have clashed over the merits of their respective plans, with each side claiming their measure will bring in more money than the alternative.
Ms Abbott, the shadow health minister, described some of the reported bonuses as "grotesque" and said they would encourage the kind of risk-taking which caused the 2008 banking crisis.
'Vigorous debate'
She said ministers should not be deterred from a dedicated bonus tax by threats of bankers moving abroad.
"I think it is time to call the bankers bluff. Voters in all the major jurisdictions, the US and Europe, want to see something done on bonuses," she added.
Former Lib Dem leader Charles Kennedy said he believed there was still a "vigorous debate" going on between the coalition partners about how to limit bonuses and increase levels of lending.
Senior Lib Dems, led by Business Secretary Vince Cable, are reported to want to take a tougher line than the prime minister and the chancellor - although Mr Osborne has said that "all options remain on the table" should banks not put together a more sustainable plan to boost lending.
"I hope our angle on that argument prevails. It has to," Mr Kennedy told the same programme.
The reported size of bonuses being planned was a "disgrace", he added, suggesting the banks were "waving two fingers to Parliament, democracy and all of us" through their conduct.
Both RBS and Lloyds Banking Group have insisted they have not decided on what bonuses to pay yet.
Appearing before MPs earlier this week, Mr Diamond suggested it was time for attacks on the banks to cease, saying they had a vital role to play in securing the economic recovery.