Union leaders reject talk of strike ballot curbs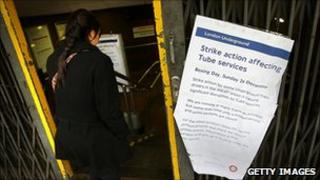 Union leaders have said there is "no justification" for the government to change the law to make it harder for employees to go on strike.
David Cameron has suggested that he could look at the issue amid calls for strike ballots to be unlawful if under 50% of a union's members take part.
The move has been backed by London Mayor Boris Johnson after a number of recent stoppages in the capital.
The TUC said it was a "cynical attempt" to divert attention from other issues.
The issue has risen up the political agenda following a series of high-profile strikes - including walkouts by London Underground staff and binmen working for Birmingham City Council.
Amid suggestions of strike action by London Underground staff on 29 April - the day of Prince William's marriage to Kate Middleton - Mr Cameron has warned unions against unnecessary confrontation.
Asked about the issue at prime minister's questions, Mr Cameron said he supported existing trade union legislation governing strike action dating back more than two decades.
'Senseless disruption'
"I know there is a strong case being made for this sort of change," he told MPs.
"I think the laws put in place in the 1980s are working well and we do not currently have proposals to amend them.
"But I am very happy to look at this argument because I don't want to see a wave of irresponsible strikes - not least when they are not supported by a majority of people taking part."
Mr Johnson has called for "sensible, practical ways" to protect the capital's economy from what he said was the "senseless, mindless disruption" caused by a minority of union leaders.
The TUC has insisted that unions are entitled to take industrial action, as a last resort, to defend their members' pay and conditions.
Mr Barber said talk of tightening legislation was a "cynical attempt" to distract attention from the problems the government was facing over bankers' bonuses and public sector job cuts.
"There is absolutely no justification for tightening up even further the already massively restrictive laws on strikes in Britain," he told the BBC.
Speaking recently Unite boss Len McCluskey said workers had a "right" to protest against spending cuts and defend their jobs but said there was "no likelihood" of a BA strike on the day of the royal wedding.