Voters go to the polls in Oldham by-election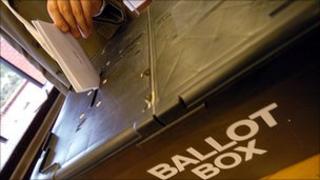 Voters are going to the polls in Oldham East and Saddleworth in the first by-election since the coalition government was formed last year.
There are 10 candidates for the seat, which Labour's Phil Woolas won last year ahead of the Lib Dems in second and the Conservatives third.
The by-election was called after an election court declared as void Labour's victory in May.
Polls close at 2200 GMT, with a result expected at about 0200 GMT on Friday.
The full list of candidates:
Debbie Abrahams (Labour)
Derek Adams (British National Party)
Kashif Ali (Conservative)
Peter Allen (Green Party)
David Bishop (Bus-Pass Elvis Party)
The Flying Brick (Monster Raving Loony Party)
Loz Kaye (Pirate Party of the United Kingdom)
Stephen Morris (English Democrats)
Paul Nuttall MEP (UK Independence Party)
Elwyn Watkins (Liberal Democrats)