Iraq Inquiry: Tony Blair to appear again on 21 January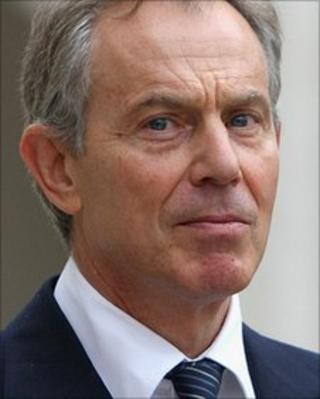 Former Prime Minister Tony Blair will give evidence to the Iraq Inquiry for a second time on 21 January.
He is one of a number of key figures asked to appear before the Chilcot committee again.
Far fewer people applied for the ballot to watch Mr Blair's second session - 191 as opposed to more than 3,000 the first time around.
Last year Mr Blair defended his decision to go to war - the inquiry says it wants more detail in key areas.
Sixty seats for the second hearing have been allocated by public ballot - a third of which were reserved for relatives of those killed in the conflict.
The Chilcot committee is holding an inquiry into the run-up to the 2003 invasion of Iraq and its aftermath.
In his first appearance before the inquiry, nearly a year ago on 29 January 2010, Mr Blair defended his decision to take the country to war, saying Saddam Hussein was a "monster".
In seven hours of questioning, he said the Iraqi regime posed a danger to international security and he would take the same decision again to take part in military action.
In an update on its progress in December, the inquiry said it would be seeking "further evidence" on certain matters.
"As we draft our report it is clear that there are some areas where we need further detail," Sir John said. "I am committed to taking the majority of this evidence in public."
On Wednesday, the inquiry confirmed Mr Blair would appear before the committee again on 21 January.
The public ballot for the 60 seats in the inquiry room attracted more than 3,000 entries for Mr Blair's first appearance. This time the inquiry says 167 people applied for the general ballot, and 24 relatives of those killed in the conflict applied.
The inquiry said 14 families who lost relatives in Iraq would be in the hearing room on 21 January, the remaining 10 families who applied are guaranteed a seat in a private viewing room at the inquiry venue.
Other witnesses to be recalled include Former Foreign Secretary Jack Straw and former Chief of the Defence Staff Lord Bryce.
The committee has been holding hearings since November, in which it has questioned a host of former Labour Cabinet ministers, senior military commanders, civil servants and diplomats.