Former MP Phil Woolas says court case will help Labour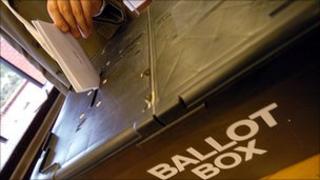 Former Oldham East MP Phil Woolas has said the court case which ejected him from the seat will help Labour's chances in this week's by-election.
The ex-Labour MP, who was barred from politics over false statements about his rival, said people did not like judges "telling them who to vote for".
But the Lib Dems said it showed Mr Woolas was "unrepentant" and said he should apologise for his actions.
Voters in Oldham East and Saddleworth go to the polls on Thursday.
David Cameron, Ed Miliband and Nick Clegg have all visited the Greater Manchester seat in recent days.
The by-election was prompted by a specially-convened election court's ruling banning Mr Woolas from Parliament.
At the general election Mr Woolas got 31.9% of votes and Lib Dem Elwyn Watkins 31.6%, with Conservative Kashif Ali on 26.4%. The BNP got 5.7% of votes, UKIP 3.9% and the Christian Party 0.5%.
The by-election is the first to be held since the last election, making it the first significant test of the coalition government's popularity.
The contest was triggered after a court found that former Mr Woolas, the former immigration minister, had made false statements about Mr Watkins in last year's campaign and invalidated the poll outcome.
It also barred Mr Woolas from standing for public office for three years.
But the former MP told the Manchester Evening News: "The feedback I have had is that people in the constituency did not like two judges coming up from London and telling them who to vote for. What happened to me will work in Labour's favour."
A spokesman for the Liberal Democrat campaign said it showed "just how unrepentant" Mr Woolas was.
"Judges have not told people how to vote - five High Court judges ruled that he broke the law."
The Conservative candidate, Kashif Ali, told BBC Newsnight he had not found the Woolas case to be a big issue in the campaign.
Asked if it had harmed Labour's chances, he said: "I don't think, on the doorstep, it's been raised much and I don't think many people are talking about it, so it's not absolutely clear it has."
Mr Clegg has said Oldham and Saddleworth's voters face a "simple choice" between his Liberal Democrats and Labour.
But Labour leader Ed Miliband has urged people to "send a message" to the government over its spending cuts.
Meanwhile, Mr Cameron has rejected claims that the poll amounts to a referendum on the Conservative-Lib Dem coalition.
The full list of candidates (in alphabetical order) is:
Debbie Abrahams (Labour)
Derek Adams (British National Party)
Kashif Ali (Conservative)
Peter Allen (Green Party)
David Bishop (Bus-Pass Elvis Party)
The Flying Brick (Monster Raving Loony Party)
Loz Kaye (Pirate Party of the United Kingdom)
Stephen Morris (English Democrats)
Paul Nuttall MEP (UK Independence Party)
Elwyn Watkins (Liberal Democrats)