Unite chief Len McCluskey defends strike action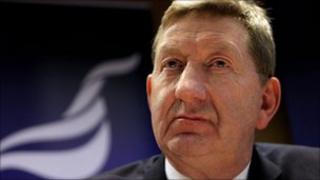 Workers have a "right" to protest against spending cuts and defend their jobs, the general secretary elect of Britain's biggest union has said.
Len McCluskey, of Unite, told BBC Radio 4's Today it was not his union's aim to bring the coalition government down.
But he said: "We have a right... to demonstrate against their decisions."
He said there was "no likelihood" of a BA strike on Royal Wedding day - and the dates for action had yet to be set as workers were still voting on it.
"Striking is always the last option - I have never met a worker who likes going on strike," he told Today.
London Underground drivers are considering walking out on 29 April, the day of the Royal Wedding, and there is talk of strike action in other parts of the public sector in protest at government cuts.
Mr McCluskey, who takes over as general secretary of Unite at the end of the month, said he was not a "deficit denier" but he believed the coalition's cuts programme was "ideologically driven".
'Morally wrong'
He said the government should tackle the deficit through tax reform and economic growth, rather than spending reductions, and attacked bank bonuses expected to be announced in the coming weeks.
The financial crisis had been caused by "spivs, speculators and greedy bankers", said Mr McCluskey, adding: "We are already back to business as usual, with the prime minister saying we should stop bashing bankers, but he has no problem bashing workers or communities.
"I am not calling for the government to be brought down, but we have a right to demonstrate against their decisions.
"Their cuts agenda is morally wrong and economically dangerous. It is our duty to protest if we feel the government is doing something wrong."
He added: "It's also about protecting our members' jobs and terms and conditions. The cuts agenda that the government has unleashed upon us is going to put 1.5 million on the dole."
Speaking after a mass rally of BA cabin crew on Monday, at Kempton Park race course in Surrey, Mr McCluskey said he expected them to vote strongly in favour further strikes in the ballot currently being held - and he hoped the airline's management would make a fresh attempt to resolve the dispute.
He said "If the company believes they have broken the spirit of the cabin crew, they should have been at this meeting to witness the anger of people.
"BA is now witnessing unprecedented levels of bullying and intimidation, but the cabin crew are standing firm under this pressure."
The dispute, which started more than a year ago over cost-cutting, is now centred on the removal of travel concessions from workers who went on strike last year, as well as disciplinary action taken against some union members.