'Fast-track' eviction plan for anti-social tenants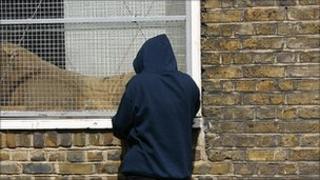 The government wants to speed up the time it takes to evict tenants engaging in serious anti-social behaviour.
Ministers say it can take more than a year to remove so-called "neighbours from hell" during which time they can make life a misery for others.
Those found guilty of a housing-related offence in England could be liable for automatic eviction in future.
But one housing charity said the idea was a "blunt tool" and the courts were already dealing with the problem.
'Living in fear'
Outlining the plans on Tuesday, Housing Minister Grant Shapps will say anti-social behaviour has "blighted" too many neighbourhoods and left too many families living in fear.
In order to make it easier for councils, housing associations and tenants to remove individuals with a track record of misconduct, he is proposing to introduce a new mandatory legal grounds for possession of properties in cases of serious anti-social behaviour.
An individual could be served with an eviction notice in the county court on the basis of a single conviction for anti-social behaviour without landlords and neighbouring tenants having to prove that they had committed a second similar offence.
In order to speed up the court process, Mr Shapps will say officials will also look at removing "unnecessary obstacles" to the swift resolution of cases where those on the receiving end of anti-social behaviour are in danger of serious harm.
There will also be £300,000 in funding available for landlords and residents to help co-ordinate efforts to rehabilitate affected neighbourhoods.
"For too long, too many social tenants have lived in fear of neighbours from hell, whose nasty and vicious behaviour blights their neighbourhoods," Mr Shapps will say.
"Victims and witnesses often have to continue living side by side with the perpetrators while action to evict them drags on for many months and sometimes years.
"I want landlords to use the full range of powers at their disposal to tackle this menace head-on so that the disruptive minority of social tenants don't make everyone else's lives a misery."
Ministers are already reviewing the powers available to the police and councils to deal with anti-social behaviour after casting doubt on the future of anti-social behaviour orders.
Police forces in eight areas are currently trialling new procedures for handling complaints of anti-social behaviour, focused on better identifying and protecting those considered most at risk.
'Complicated problem'
But housing charity Shelter said it was sceptical about the new fast-track eviction plan.
"Removing courts' discretionary powers and forcing them to evict people, despite possible extenuating circumstances, is a blunt tool to deal with a complicated problem," said Kay Boycott, its director of campaigns, policy and communications.
Courts were already taking a firm line with those accused of serious or persistent anti-social behaviour, she suggested.
"Something as critical as whether someone might be made homeless, is surely too important to be left to the discretion of a landlord who may not be wholly impartial," she added.
"Considering competing claims and the evidence involved in these complex cases should be left to the courts, particularly where cases involve tenants with a mental health problem, disability or where children are involved."