Coalition sees off rebellion by Tory MPs over Europe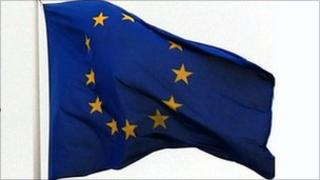 The coalition has seen off a rebellion by Conservative MPs over Europe.
MP Bill Cash urged colleagues to call for the sovereignty of Parliament to be "reaffirmed in relation to EU law" amid concerns about more transfer of powers.
Ministers say the coalition's proposed EU bill provides sufficient safeguards as it requires a referendum before "significant" powers pass to Brussels.
Although Mr Cash's amendment was defeated, more than 30 Conservative MPs defied the government by supporting it.
The government won the vote, which followed a Commons debate, by 275 votes after Labour abstained.
But 39 MPs backed the veteran eurosceptic's amendment, the majority of them Conservative.
Ministers say the plan for a "referendum lock", contained in the EU Bill currently being considered by Parliament, will help preserve national sovereignty.
'Threat to democracy'
If passed by Parliament, it would ensure "significant" EU treaties must be approved by a referendum of UK voters, with the same rule in place for major changes to existing treaties.
The coalition agreement reached between the Conservatives and Liberal Democrats states that there should "be no further transfer of sovereignty or powers over the course of the next parliament".
But some Tory MPs argue the government will get the ultimate say on which issues go to a referendum, making it less democratic, and 50 held a meeting with ministers on Monday to voice their concerns.
Speaking in the debate, Mr Cash said there was already "grave concern" about the extent of judicial involvement in the "construction and interpretation" of laws applying to the UK, covering areas ranging from the economy to the deportation of suspected terrorists.
Parliamentary sovereignty was in "grave danger" due to the large number of laws being made in Europe, which he said had turned into a "tsunami" affecting every aspect of British life.
Judges should not be able to "flagrantly disregard" decisions taken by a national Parliament and the government's proposals would actually further "encourage judicial supremacy", he said.
"There has been a continuous trend of legislation which is divesting this House of its right to legislate," he told MPs. "It is time we turned the tide and made it clear exactly where we stand."
His proposed amendment would provide a "firewall" against further judicial interference, he added.
For the government, Europe Minister David Lidington said the UK always retained the right to repeal existing laws relating to the EU but this was not its aim as it would lead to a "serious crisis" in the UK's relationship with Europe.
He said he had not been elected to Parliament to hand over powers to "unelected groups of any sort" but that Mr Cash's proposed amendment could lead to all sorts of unforeseen consequences.
"There is no accepted definition of sovereignty. I fear that the lack of a clear definition would encourage the judges to try to interpret the substance, scope, limits of sovereignty through judicial activism," he argued.
'Status quo'
Under the proposed legislation, ministers could rule out a referendum if they judged the transfer of power to Brussels was "not significant", but their decision would be open to legal challenge.
The "referendum lock" was first mentioned by David Cameron in 2009 after he had ruled out a referendum on the Lisbon Treaty following its ratification by all 27 EU member states, something which irritated Eurosceptic Conservative MPs.
The prime minister has insisted the bill "basically does what it says on the tin" and that governments will not be able to hand powers to Brussels in future without explicit public approval.
But shadow Europe minister Wayne David said the sovereignty clause was an exercise in "smoke and mirrors" aimed at placating Tory eurosceptics and "simply a reaffirmation of the status quo".
"It is nothing more than an exercise in legislative tautology, a puffed-up reiteration of what the law of the land already states," he told MPs.