Former Tory donor Stuart Wheeler becomes UKIP treasurer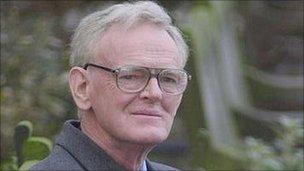 The wealthy former Conservative Party donor Stuart Wheeler has joined the UK Independence Party as its treasurer.
The spread-betting tycoon, who gave the Tories £5m in a single donation in 2001, was expelled from the party in 2009 after donating £100,000 to UKIP.
Mr Wheeler, who has criticised David Cameron's attitude to the EU, said UKIP's success was "vital".
He unsuccessfully ran for Parliament last year, after setting up his own "anti-corruption" party.
The announcement of Mr Wheeler's decision to join UKIP as treasurer was made at a press conference in Oldham East and Saddleworth, where a by-election is taking place this Thursday.
He said: "I believe that what UKIP is doing is vital for this country, and of course the party's financial management is crucial.
"So I am very honoured to have been appointed Treasurer and I shall do my very best in both helping to raise money for the party and in the management of its financial affairs under Nigel Farage as leader and Steve Crowther as executive chairman."
Mr Farage said: "I am absolutely thrilled that Stuart Wheeler has become UKIP's Treasurer. Our policies are now mainstream in British politics: all that is holding us back is a lack of funds and I believe that a highly respected Eurosceptic like Stuart will help us do the job."
Mr Wheeler previously made a donation to UKIP - which wants the UK to leave the European Union - in the run-up to the 2009 European elections.
He was expelled from the Conservatives, with Mr Cameron saying politics was a "team game and, in the end, you're either in the team or not".
Mr Wheeler later set up his own Trust Party last year in the wake of the MPs' expenses scandal, promising to "clean up" Westminster. He came fourth in the ballot in Bexhill and Battle, in East Sussex, at last year's general election.
Mr Wheeler worked as a barrister before setting up IG Index in 1974. The company allowed UK residents to speculate on the price of gold at a time when exchange controls prevented them from buying it, except at a premium.
Related Internet Links
The BBC is not responsible for the content of external sites.