Lib Dems not giving up, says Nick Clegg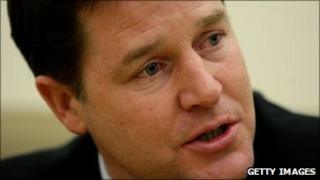 Nick Clegg has defended the work of the coalition government, saying people will take a "more rounded view" of its achievements by the next election.
The deputy prime minister, whose Liberal Democrat party has fallen in the polls, said the "idea that we are just giving up is absolute nonsense".
Mr Clegg also said there was a "clear liberal direction to this government".
He told BBC Radio 4's Today programme that bosses of state-owned banks must be "sensitive" over bonuses.
Mr Clegg, whose party's ministers have been criticised for voting in favour of a rise university tuition fees in England, despite campaigning against this at the last election, said the policy would eventually come to be seen as more "progressive" than the old system.
He added: "We have crafted a system which I think will be a pleasant surprise to people."
'Crucial year'
He said the effect of the spending cuts would be "difficult", adding: "But I think at the same time there are signs that the repair job we are doing on the government finances and the general creation of greater confidence in the economy might also start showing itself as well.
"I think it will be a crucial year - a crucial year, yes, of some very challenging circumstances for millions of people in this country, but I hope the beginning of a real turnaround as we move forward and as we successfully implement the repair job on the economy."
The Liberal Democrats face their first serious electoral test since entering government when the Oldham East and Saddleworth by-election takes place on Thursday.
There will also be local elections and elections for the Welsh Assembly and Scottish Parliament in May.
These take place on the same day as the referendum on replacing the first-past-the-post system at Westminster with the alternative vote.
Mr Clegg said he was confident of achieving this change and restoring his party's fortunes at the ballot box in the longer term.
He added: "The idea that we are just giving up is absolute nonsense."
Asked whether the Lib Dems had been unsuccessful in implementing their manifesto commitments since forming the coalition, he replied that they had gone into the arrangement with the Conservatives "with our eyes wide open".
He said policies such as electoral reform, raising the point at which people pay basic-rate income tax and introducing a "pupil premium" to help children from the worst-off families had been largely due to his party's efforts.
Mr Clegg added: "I think this shows a clear liberal direction to this government, on the whole."
He said: "These are the big benefits in British life which I acknowledge in a sense don't present themselves immediately to people.
"Over the course of this parliament I believe people will take a more rounded view of what this government is doing."
Amid reports that the state-owned Royal Bank of Scotland is planning to pay chief executive Stephen Hester a £2.5m bonus, Mr Clegg said: "For those people running state-owned banks... They have to be sensitive to what British taxpayers feel."
Such payments seemed to "come from a parallel universe to many people", he added.