Open prison staffing levels labelled 'inadequate'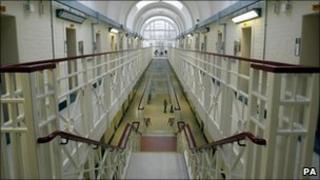 Only 43 prison staff are in charge of more than 3,000 inmates on a typical night shift at open jails, the Prison Officers Association (POA) has said.
Joe Simpson, of the POA, said the numbers were "totally inadequate" and he was surprised recent unrest at an open prison had not happened sooner.
Some 40 inmates rioted at Ford prison, in West Sussex, on New Year's Day after officers attempted to breathalyse them.
The Ministry of Justice said "staffing levels had been risk-assessed".
"There are strict criteria for acceptance at open prisons, which exclude the most dangerous prisoners, and the type of incident that occurred in Ford open prison recently is extremely rare," a spokesman said.
Seven open prisons contained 3,012 inmates on 26 November last year, according to the POA.
It suggested just 17 trained prison officers supported by 26 staff were on duty on that night.
The Ministry of Justice (MoJ) did not dispute the prison officer figures, but provided figures from another date on which it said 91 operational prison staff were on duty overnight in open prisons.
These included about 65 trained and uniformed operational grade support officers, plus around 26 staff at prison officer grades.
However the MoJ declined to disclose the date on which the count was made, or to say how many open prisons its figures related to.
'Totally inadequate'
The incident at Ford prison raised concerns over staffing levels at open prisons after it emerged only two prison officers and four support staff were in charge of almost 500 prisoners on the night shift.
POA assistant secretary Mr Simpson said his association's figures proved open prison staffing levels to be "totally inadequate".
He said inmates at category D open prisons were trusted to go to work in the community and some returned late at night.
"The problem with low staffing levels is that, if [the prisoners] have had a drink, they've got to be breathalysed because they're in breach of their licence conditions.
"When they're getting drink and drugs, and in some cases women - as it's been reported in the past - it's impossible for the staff who are on duty to cope."
Prisons minister Crispin Blunt has said the inquiry into the "unprecedented" violence at Ford Open Prison would look at staffing levels as a possble factor behind the unrest.
A Ministry of Justice spokesman said prisoners were "rigorously risk-assessed and must be categorised as being low-risk to the public before being placed in open conditions".
He said: "Staffing levels have been risk-assessed as appropriate for open prisons and low risk offenders who are nearing the end of their sentences."
The spokesman added that open prisons are "the most effective means of ensuring prisoners are tested in the community before they are released" and the circumstances surrounding the riot at Ford prison are being investigated.