Simon Hughes calls on universities over private intake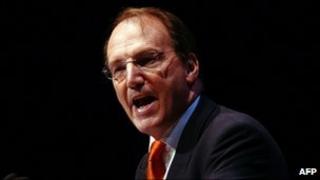 Universities should drastically limit their intake of privately educated pupils, Liberal Democrat deputy leader Simon Hughes has said.
Mr Hughes, the government's adviser on access to higher education, spoke in the light of the move to raise tuition fees in England to up to £9,000 a year.
He told the Guardian that universities needed to be far more active in seeking out the brightest state school pupils.
Universities had "failed miserably" on the issue, Mr Hughes said.
'Deliver in turn'
He said: "I think my message to the universities is - you have gained quite a lot in the settlement.
"Yes, you've lost lots of state money, but you've got another revenue stream that's going to protect you.
"You now have to deliver in turn. You cannot expect to go on as you are. It has failed miserably."
Next week, Mr Hughes will have his first meeting in his new capacity with the coalition ministers responsible for universities, David Willetts and Vince Cable.
'Results and ability'
Mr Hughes told the paper: "Every university should, wherever their fee level is, but specifically for a fee level above £6,000, recruit on the basis of no more people coming from the private sector than there are in the public as a whole.
"I don't believe you have to look to the private sector to give you the quality of exam results and ability to make up the numbers to fill the places."
MPs have voted for proposals, backed by the House of Lords, to raise university tuition fees in England from £3,290 to up to £9,000 a year.
The move brought angry protests from students, especially against the Lib Dems who made an election manifesto pledge to oppose any increase before joining the coalition.