Freedom of Information could cover hundreds more bodies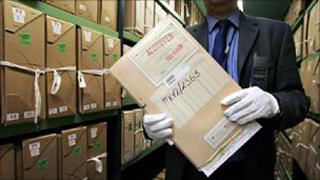 Hundreds more organisations could be made subject to Freedom of Information laws, Deputy PM Nick Clegg is to say.
The Association of Chief Police Officers and the Ucas universities admissions service are among bodies set to be included in the FOI Act.
He will also confirm that the process of cutting the "30-year rule" for secret government papers to 20 years will begin in 2013.
A cut in the 30-year rule was backed by the previous Labour government.
Mr Clegg will pledge to "restore British freedoms" in his speech on Friday, as part of "our wider project to resettle the relationship between people and government".
He will say: "Free citizens must be able to hold big institutions and powerful individuals to account - and not only the government. There are a whole range of organisations who benefit from public money and whose activities have a profound impact on the public good.
"In order to do so, citizens must first know what goes on in these institutions. And they must be at liberty to speak out about the things they discover. It is a modern right to information combined with traditional freedom of expression."
The Freedom of Information Act allows other organisations to be designated a "public authority" which comes under FOI laws if it "appears to the secretary of state to exercise functions of a public nature" or "is providing under a contract made with a public authority any service whose provision is a function of that authority".
'Tedious hurdles'
Government sources said they would include Acpo, Ucas and the Financial Ombudsman Service and would "make it easy for people to find out information that is relevant to them, to ensure that public bodies are acting in the public interest and providing good value for money."
Mr Clegg will say that "tedious bureaucratic hurdles" have been placed in the way of people making FOI requests and information is being "hoarded by the few". He will say the scope of the FOI Act will be extended "to cover potentially hundreds more bodies".
He will also confirm that the government will go ahead with plans to scrap the 30-year rule in favour of a 20-year rule from January 2013.
The process will be phased in over 10 years - something the government says is because of costs. The National Archives and government officials will be looking at how to bring about the change over the next 12 months.
It follows the Dacre review, commissioned by the Labour government in 2007, which recommended it be reduced to 15 years. In power, Labour had backed reducing it to 20 years, phased in over 10 years and the change was included in the Constitutional Reform and Governance Act 2010.
But Mr Clegg will accuse Labour of having "dragged their feet" over the issue, adding: "Surely it can only strengthen our democracy if we reduce the time people must wait to know the full truth about the governments they have lived under, and the events they have lived through."