David Cameron looking at fuel tax changes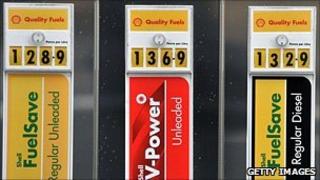 David Cameron says he is looking at a way to "share the risk" of higher fuel prices between government and drivers.
The Conservatives have previously looked at the possibility of cutting fuel duty when oil prices rise, and increasing it when prices fall.
The PM said he was "working with the Treasury" on the idea and said rising prices had been "painful" for drivers.
Shadow transport secretary Maria Eagle accused him of "reheated promises" and said motorists would not be fooled.
Mr Cameron was speaking at the Caterpillar plant in Leicester when he was questioned about fuel prices, which have topped £1.30 a litre for unleaded and £1.35 a litre for diesel.
He told the audience the recent increase in fuel duty had been part of Labour's tax plans which they had to put into place. Combined with the rise in VAT to 20% he admitted it was "very painful and difficult" for motorists.
The prime minister said it was partly due to rising oil prices but added: "I think we also need to ask ourselves this question, and I am working with the Treasury on this.
"Is there a way in which when the oil price goes up, if the Treasury is getting more revenue out of that oil, can we find a way of sharing that risk with the consumer, ie if the price goes up, the tax comes down, and if the price goes down, the tax goes up."
'Share burden'
He added: "We are looking at it. It's not simple, it's not an easy thing to put in place but I would like to try and find some way of, as I say, sharing the risk of higher fuel prices with the consumer.
"At the moment I think they feel they are bearing all of the burden so we are looking at this because we do want to try and help people."
In 2008 when in opposition, the Conservatives proposed a "fair fuel stabiliser" - something that was criticised by the then Labour government who said it could leave a £3bn hole in public finances. It was also criticised at the time by then Lib Dem Treasury spokesman - now business secretary in the coalition government - Vince Cable.
But in the Budget in June, the coalition government said it had asked the Office for Budgetary Responsibility to assess the effect of oil price fluctuations on public finances over the summer. It said it would then "examine options for the design of a fair fuel stabiliser".
Labour leader Ed Miliband had accused the Conservatives of breaking promises made on the fuel duty stabiliser earlier this week. On Wednesday Labour's shadow transport secretary Maria Eagle said: "Motorists won't be fooled by David Cameron's reheated promises to look again at fuel prices. He's promised a fuel duty stabiliser before and hasn't delivered.
"His warm words won't mean much to motorists who this week have seen a VAT rise forcing up prices at the pump.
"With rail fares up by an unacceptable 10% on many routes, commuters are being hit in the pocket whichever way they try and get to work."
The International Energy Agency has warned the high price of oil will threaten economic recovery in 2011 and is entering "a dangerous zone".
The price of US light oil rose to a 27-month high earlier this week, but has since fallen back to $88.98 (£57.54) a barrel, with Brent Crude at $93.15.