MPs' expenses: Under-fire watchdog Ipsa launches review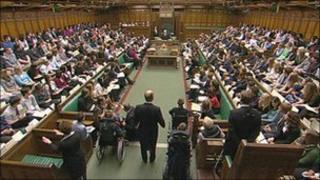 MPs have attacked Parliament's expenses watchdog as it launches a public consultation into what politicians should be allowed to claim.
Tory Roger Gale suggested its chairman should consider resigning, while Lib Dem Bob Russell said it was "not fit for purpose" and should be scrapped.
Chairman Sir Ian Kennedy said major changes were not on the cards and Ipsa was "here for the long haul".
But the review says detailed rules may be replaced by a set of principles.
The Independent Parliamentary Standards Authority is reviewing the expenses scheme, less than a year after it was set up following the 2009 scandal.
Although Sir Ian told the BBC fundamental reform was "absolutely not" on the cards, the review says that the system of detailed rules currently in force "cannot answer all the questions that are asked by 650 different MPs and their staff, each of whom operates in their own individual way".
Eight months after it began, the IPSA says the volume of calls from MPs has not dropped noticeably - and it is putting pressure on MPs, their staff and on Ipsa.
MPs are said to be worried that claims will be rejected because they misunderstood the rules - and those rejections will be published. However most rejections are due to administrative mistakes, the review says.
The review says: "This opens up the possibility that an expenses scheme based more on a set of principles which do not attempt to cover every eventuality will, in time, gain support.
"It will need a decision that a system that is easy to understand is preferable to a larger rule book which seeks certainty but necessarily falls short of delivering it."
It adds that MPs would have to agree to take "greater responsibility for their claims" - and that the majority of claims would continue to be published and auditing would continue to give taxpayers assurance.
The review also addresses the controversial accommodation expenses which allowed MPs to buy second homes subsidised by the taxpayer.
Under the new system that practiced ended but MPs who already owned second homes were allowed to continue claiming towards mortgage interest payments until 31 August 2012. At the end of that period they must repay a percentage of any profit - even if they have not yet sold the property, which some MPs say is unfair.
While the review says Ipsa "does not expect to change the rules on mortgage interest" and on capital gains it asks if respondents think it should be changed.
'Anti family'
The review also asks whether MPs should be allowed to claim second home accommodation expenses for children aged five to 21 - currently MPs can only claim for children under five years old - unless they are a lone parent or have a disabled child or relative. It follows complaints the new rules are "anti family".
It also looks at whether MPs should be able to make more travel claims for their children or partners and whether MPs representing seats in "outer London" should be allowed to claim more - as they were before the rules changed - or whether the definition of "outer London" should be narrowed.
Ipsa says MPs have struggled with a rule that they submit receipts within 90 days of the expense - and the review suggests they could be allowed longer to do so. And it suggests staff could be allowed to submit claims for an MP, as long as the MP accepts "full accountability".
Asked if fundamental changes were ahead, Ipsa chairman Sir Ian told the BBC: "Absolutely not. Ipsa is doing the job Parliament asked it to do. We are here for the long haul. It's not an immediate quick fix that is possible."
He suggested some MPs "find it difficult to come to terms with the notion of independent regulation... That takes its time and some find it an uncomfortable process."
But Conservative MP Roger Gale told the BBC: "What we have put in place does not work and those responsible have got to be replaced. I think that both the chairman of Ipsa and the interim chief executive are going to have to consider their own positions."
Lib Dem Bob Russell said: "I think in its present form it should be scrapped frankly because it is not fit for purpose."
And Labour backbencher David Winnick said: "The patience of Members of Parliament has reached such a state that inevitably there will be changes."
Sir Ian told the BBC he had not even considered standing down. In a foreword to the consultation, which runs until 11 February, he also said he wanted to hear "not only from MPs but from taxpayers around the country, after all it is the taxpayer who pays the expenses".
House of Commons leader Sir George Young welcomed Ipsa's inquiry and said the body should look at areas where it was not supporting MPs in carrying out their jobs. He said MPs who are "experiencing difficulties" should take part adding:" We support the principles of independent and transparent regulation of MPs' expenses."
Last month, Prime Minister David Cameron told a meeting of the 1922 Committee of Tory MPs the parliamentary expenses system was "not acceptable" and must change.