Spelman urges EU farm subsidies rethink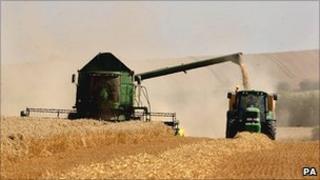 Environment Secretary Caroline Spelman has called for a "fundamental" rethink of the EU's Common Agricultural Policy.
She told an audience of farmers the policy, costing billions of pounds a year, distorted trade and must change.
Mrs Spelman also said subsidies should have less emphasis on food production, and reward farmers who take steps to protect the environment.
Her comments come as negotiations begin ahead of major reform of the Common Agricultural Policy (CAP) in 2014.
Many of the delegates attending Wednesday's Oxford Farming Conference benefit from subsidies from the CAP.
But Mrs Spelman told them that, in future, those payments should be linked less to food production and instead reward farmers for delivering benefits such as improving wildlife habitats and biodiversity.
'Abolition'
The environment secretary also said it was morally wrong that the CAP distorted trade by keeping prices artificially high in the EU while imposing import tariffs on developing countries trying to sell to Europe.
Mrs Spelman said: "We need to make the new CAP fundamentally different. It must be about the new challenges of achieving global food security and tackling and adapting to a changing climate.
"Now is the time to make very significant progress towards reducing our reliance on direct payments."
She added: "Rising global demand for food and rising food prices make it possible to reduce subsidies and plan for their abolition.
"Furthermore we should encourage innovation in the industry, and provide help with environmental measures and combating climate change.
"Our taxpayers have every right to expect other public goods for the subsidies they pay."
BBC rural affairs correspondent Jeremy Cooke said her call for change was calculated to send a message to Brussels about the UK's intentions.
The European Commission has said EU farm spending, worth £51bn a year, should no longer be based on previous subsidy levels for farmers.
But the commission believes subsidies are still needed to protect Europe's food supplies and rural diversity. The proposals are contained in an EU blueprint for farming beyond 2013.
The commission's options for the CAP will be discussed by the 27 EU member states before new legislation is presented in mid-2011.