Legal challenge to Osborne Budget is refused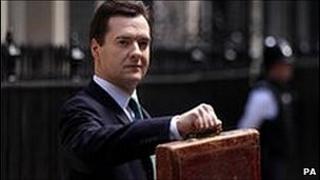 The High Court has refused gender equality campaigners permission to challenge the legality of the government's emergency Budget.
The Fawcett Society argued that changes to jobs, benefits and services had had a greater impact on women than men, breaching discrimination law.
But the court decided not to issue a declaration saying June's Budget had been unlawful and must be reconsidered.
The Treasury said it took its equality obligations "very seriously".
The Fawcett Society said women were disproportionately affected by the Budget changes, including caps on housing benefit, a freeze on child benefit and a rise in VAT.
They were more often reliant on the welfare payments that were cut, while changes to the tax system favoured far more men than women, it added.
'Tough but fair'
In court, Karon Monaghan QC, representing the society, said £5.7bn of the £8.1bn in savings raised by the Budget was coming from women.
She also said: "Top-line analysis demonstrates a grossly disproportionate and devastating impact so far as women are concerned."
Ms Monaghan argued that Chancellor George Osborne had failed to comply with the government's duty under the 1975 Sex Discrimination Act "to eliminate unlawful discrimination" and promote equality of opportunity between men and women.
However, the judge, Mr Justice Ouseley, ruled the Fawcett Society's judicial review application "unarguable - or academic" and dismissed it.
This means it will not go to a full hearing. An earlier written application was also turned down.
Ministers have insisted the measures in the Budget and October's Spending Review - which outlined plans for £81bn in budget cuts over the next four years - were "tough but fair" and that all sections of society and income groups must contribute to dealing with the £150bn deficit.
They have pointed to measures, such as the increase in the child element of the child tax credit by £150 above inflation from next April, as evidence of support for families in difficult times.
But speaking in August, when the Fawcett Society launched its legal action, Labour's Yvette Cooper said the government's plans were "peppered with policies that hit women hardest".
The Equalities and Human Rights Commission is carrying out a separate assessment of whether the Spending Review adversely affected women, ethnic minorities and the disabled.