Vince Cable to vote for tuition fee rise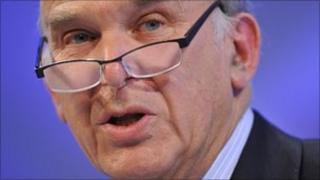 Business Secretary Vince Cable will back a rise in tuition fees in next week's crucial vote, it has emerged.
He told a newspaper: "Obviously I have a duty as a minister to vote for my own policy - and that is what will happen."
Mr Cable has previously said all Liberal Democrat MPs would act collectively to abstain in the vote.
Meanwhile, the BBC has learned a range of options will be put to Lib Dems MPs which the party leadership hopes will "retain as much unity as possible".
BBC political correspondent Tim Reid said senior Lib Dem sources have admitted government whips will be unable to persuade all 57 of their MPs to abstain.
A range of options are likely to be put on the table at the meeting of the parliamentary party being held in the Commons on Tuesday - two days ahead of the vote - in order to reach a collective position on fees.
These include:
All Lib Dem cabinet ministers (5 of them) and whips must vote in favour of a rise in tuition fees, others can abstain
All Lib Dem government ministers (18) must vote in favour, others can abstain
All Lib Dem government ministers and parliamentary private secretaries (5) must vote for, others can abstain
Lib Dem sources told the BBC it would be "bizarre" if Deputy Prime Minister and Lib Dem leader Nick Clegg did not vote the same way as Mr Cable.
Our correspondent said if the 18 government ministers voted for the rise, the policy would not be at risk.
"There is a working majority for the coalition of around 80 MPs, half of that would cause difficulties but there are 57 Lib Dem MPs and if all the government ministers voted in favour, that would mean the policy would get through," he added.
'No doubt'
Liberal Democrats have faced angry protests from students, with the party's London MPs forced to cancel a planned conference on Saturday after fears it would be disrupted.
Mr Cable's comments to the Richmond and Twickenham Times have not been disputed by the party.
He told the paper he had reconsidered his decision and had "no doubt" he should support the controversial policy that will allow some universities to charge up to £9,000 in fees.
He said he had been considering abstaining to offer an "olive branch" to Lib Dem colleagues who were "finding this difficult".
He added that he felt sad when he saw students taking to the streets, saying: "Whenever I get the chance to discuss the situation with them face-to-face and I am able to explain it I think there is more understanding of the problem - that we had to take very substantial cuts in my department."
He added: "What we are doing is giving universities the opportunity to maintain high standards by charging better-off graduates later in life more than they are at the moment.
"But we built in a lot of protection for students from low income backgrounds and graduates who have a low income or take time out for a family, and I think there's common consensus that the system we've devised is a progressive one."
Giving his reaction to the business secretary's revelation, Aaron Porter, president of the National Union of Students, said: "Dr Cable has performed so many U-turns over the issue of university funding that he is spinning on his heels.
"That might stand him in good stead with the Strictly Come Dancing judges but the electorate will see it differently."
General election
The Lib Dems have come under heavy pressure after pledging before the election to vote against any fee rise.
Mr Cable and Mr Clegg have both defended the proposals - which will see no upfront payments and graduates starting to repay the cost of their degrees when they earn £21,000.
They say low-earning students will contribute less than under the system the coalition inherited.
But student leaders say the proposals - which followed the independent Browne review of student finance - will deter people from poorer backgrounds from applying to university.
About a dozen Lib Dem backbenchers are currently expected to vote against the increases - including former leader Sir Menzies Campbell and party president Tim Farron - but that would not be enough to prevent them becoming law.
Deputy Lib Dem leader Simon Hughes has still not decided what to do. He is expected to make a decision after a meeting of the parliamentary party on Tuesday, the BBC understands.
Labour higher education spokesman Gareth Thomas said: "John Cleese could not have scripted this farce better than Vince Cable.
"The truth is these proposals weren't necessary, they're unfair and they don't offer a long-term sustainable system of support for students or for universities.
"Other Liberal Democrat and Conservative MPs need to join Labour on Thursday to force the government to think again."
The National Union of Students have said they will hold a "day of action" on Wednesday 8 December, on the eve of the Commons vote.