Wikileaks files: Brown's premiership written off by US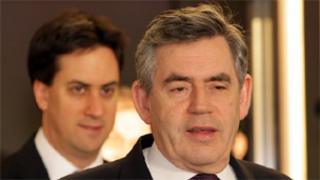 Gordon Brown's premiership was written off as almost "beyond repair" by the US embassy in London after less than a year, the latest leaked cables reveal.
Assessments sent to Washington in July 2008 noted Mr Brown's "abysmal" record and said he was lurching from "political disaster to disaster".
The cables, from US ambassador Robert Tuttle, have been released by whistle-blowing website Wikileaks.
They follow revelations about the US view of senior Tories and Lib Dems.
The latest leaks, published by the Guardian newspaper, describe the "post-Blair rudderlessness" of Mr Brown's government.
'Lack of charisma'
Following Labour's by-election defeat in Glasgow East in July 2008, Mr Tuttle reported: "As Gordon Brown lurches from political disaster to disaster, Westminster is abuzz with speculation about whether he will be replaced as prime minister and Labour party leader, and, if so, by whom.
"A terrible by-election defeat... has left the Labour party reeling and fuelled fears among MPs that Brown's leadership of the party, and his premiership, may now be beyond repair."
A close ally of the then prime minister, Nick Brown, had told US embassy officials the by-election result was "terrible" but that Gordon Brown would be able to "slap down" any threat to his leadership.
Reporting back from Labour's first spring conference under Mr Brown, in 2008, Mr Tuttle said the gathering was "characterised by low energy, poor attendance, and a lack of charismatic leadership".
He added: "The lack of energy that hung like a pall over the keynote speech was evident elsewhere, either because of low attendance or the party's financial woes.
"Even though Blair ended up unpopular, he was the sun around which the party orbited, and his speeches, no matter the content, sparked an emotional response. Brown's earnest and praiseworthy vision excites no opposition and yet it seems to excite no great enthusiasm either."
Mr Tuttle appears not to have spotted the rise of the man who would succeed Mr Brown as Labour leader, Ed Miliband.
In his report on the 2008 spring conference, he notes the only "star power for a party that seems increasingly to miss Tony Blair's charisma" belonged to Ed's brother David, the then foreign secretary, who produced a "palpable... frisson of excitement" whenever he appeared.
US officials revised this view of Mr Brown during the financial crisis that followed in the autumn of 2008, when they reported that the then PM was "suddenly riding high".
But it was short-lived - by the following April, in the wake of the resignation of aide Damian McBride over a plot to smear Tories, they said it was "unlikely that any Labour politician with his or her eye on the future would want to take on the sinking ship that is the current Labour party at this time of crisis".