Alexander trying to persuade Lib Dems on tuition fees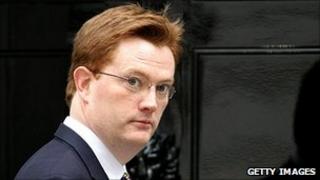 A Lib Dem cabinet minister has said he is still trying to persuade his fellow MPs to vote for the coalition's plan to almost double tuition fees in England.
Danny Alexander told BBC One's Question Time his MPs were discussing the matter "collectively" but had not reached an agreement ahead of next week's vote.
The situation facing the party on the issue was "not ideal", he acknowledged.
Lib Dem MPs have come under fire after they all signed a pre-election pledge to oppose any rise in fees.
The party has been the focus of student protests ahead of a vote on 9 December on coalition proposals to raise the tuition fee limit from £3,290 to £6,000 and allow universities, under certain conditions, to charge up to £9,000 for some courses.
Lib Dem ministers in the government, particularly Deputy Prime Minister Nick Clegg and Business Secretary Vince Cable, have come under pressure to say which way they will vote.
While the coalition deal with the Conservatives allows their MPs to abstain on the issue, ministers are historically expected to support government policy.
Mr Alexander told Question Time, in an edition broadcast on 2 December, that the Lib Dems were "looking, collectively as a party, at what position we take".
'Democratic process'
"This is not an ideal situation at all but in a coalition there are going to be some issues that are going to be difficult and we flagged that up in the coalition agreement," he added.
"I hope, and I would certainly very much prefer, to vote for it. I have worked very hard on this policy."
Asked whether there was a chance he would not support it, he replied: "I won't wash my hands of it. I am seeking to persuade my colleagues to support it but, at the end of the day, we have not reached a view as a party yet.
"We are going through a process as a democratic party and not imposing something as a leadership on our colleagues."
Mr Alexander said he and his Lib Dem colleagues had sought to make the policy as "fair as possible", pointing out there would be no upfront fees and the repayment threshold would rise to £21,000.
"We need to ensure universities are properly funded in future but that this is done fairly," he added.
"I think the balance of this is in favour of people on lower incomes but also asking people on higher incomes to pay more. That is why I think it is the right policy for the country."
More than 10 Lib Dem MPs, including former leaders Sir Menzies Campbell and Charles Kennedy, have indicated they will vote against the policy while others are considering abstaining.
The Conservatives support raising the fees limit. Labour leader Ed Miliband has called for an alternative graduate tax but some of his senior colleagues are sceptical about the proposal.