Profile: David Chaytor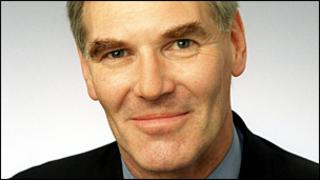 Former Labour MP David Chaytor has been jailed for 18 months for making false Parliamentary expenses claims.
He was among the MPs who stood down at the 2010 election after getting caught up in the expenses scandal.
Elected as MP for Bury North during Labour's 1997 landslide victory, he found himself in the spotlight over so-called "phantom mortgage" claims.
In June 2009, he said he would quit so his "self-inflicted problems" would not hurt Labour's election efforts.
Chaytor, 61, blamed accounting errors when accused of claiming for a flat on which he had paid the mortgage.
He was one of many MPs who found their expenses claims splashed over the Daily Telegraph in May 2009 when the newspaper obtained a leaked copy of all claims and receipts made by MPs under their second homes allowance, and other expenses, over several years.
Chaytor had already been suspended from the Labour Party and following his custodial sentence, he has now been excluded from the party. He had been facing a maximum sentence of seven years' imprisonment.
Sentencing Chaytor, Mr Justice Saunders said the Parliamentary expenses scandal had "shaken public confidence in the legislature and angered the public".
'Unforgivable error'
The newspaper described Chaytor as having among the "most controversial" expenses arrangement of all the MPs it had investigated - as he had claimed five different properties were his "second home" since 2004.
The Telegraph reported in May 2009 that Chaytor had paid off the mortgage on his "second home" - a flat in Westminster - in January 2004, yet he had claimed £1,175 a month for mortgage interest payments between September 2005 and August 2006.
The amount claimed totalled nearly £13,000 - questioned about it, Chaytor said he had made an "unforgivable error in my accounting procedures".
The following month he announced his decision not to seek re-election in 2010, he said: "I do not want my self-inflicted problems to be a distraction to my party's campaign as we move towards the general election."
He said he wanted to explain his "errors" and had referred himself to the Parliamentary Commissioner for Standards, John Lyon.
But in January 2010 the Sunday Times published a story which said Chaytor had not in fact claimed mortgage interest payments but had claimed rent on the Westminster flat, after drawing up a tenancy agreement with his daughter.
The newspaper said he had disguised their relationship by using his daughter's first and middle names - Sarah Rastrick - instead of her surname.
It also reported that he had rented a property from his mother - who had remarried and had a different surname - near his constituency from August 2007, despite Commons rules banning MPs from renting from relatives introduced in 2006. His mother, who was ill, had moved into a care home.
On 5 February 2010, the Crown Prosecution Service announced it would charge Chaytor with false accounting under the Theft Act.
He complained afterwards that he had been the victim of "selective reporting and outlandish claims" by the media and said he had not received "to the best of my belief... any payment in excess of that for which I was eligible".
'Broken man'
Chaytor was charged with claiming £12,925 for a year from September 2005 for renting a property in London which he owned, of dishonestly claiming £1,950 for IT services in May 2006 and of dishonestly claiming £5,425 for renting a property in Bury from his mother between September 2007 and January 2008.
He tried to argue that the ancient right of Parliamentary privilege - which protects MPs from legal action arising from events in Parliament - should apply to expenses but that argument was dismissed by the courts. He changed his plea to guilty days before his trial was due to start in December.
In an interview with his local paper, the Bury Times, in February 2010, Chaytor said the previous nine months had been "a shattering experience" as he fought to protect his reputation and deal with "people's understandable anger and disappointment".
He said his "personal circumstances at the time were extremely complex and not something I can explain away in a soundbite" adding that "throwing a few people to the wolves won't solve the deeper problems of the Parliamentary expenses system".
At the sentencing hearing at Southwark Crown Court, his lawyer James Sturman said Chaytor was a "broken man" who had lost his hard-earned reputation for integrity and had pleaded guilty out of "deep and genuine remorse".
"There is nothing left that is a spark in him at all, except when he talks of his grandchild born before Christmas. He accepts he has brought shame on himself, he has brought shame on his family and he has brought shame on Parliament."
His former Labour colleague Chris Mullin told BBC Radio 4's World at One programme: "I obviously don't condone what he's done but on a personal level I feel sorry for him. He was a good colleague, he was an assiduous MP as far as I'm concerned - I'm very sad about this outcome."
Chaytor was one of many new Labour MPs elected in Tony Blair's 1997 landslide - unseating the then Conservative minister Alistair Burt. It followed previous attempts to be elected an MP in Calder Valley in 1987 and 1992.
The former lecturer in Manchester was a councillor in Calderdale before becoming an MP. His time in the Commons was spent on the backbenches where he served on a number of committees, with a particular interest in environmental affairs.
The most recent former MP to have been jailed was Conservative Jeffrey Archer, who was jailed for four years for perjury in 2001.
More recently Labour MP Eric Joyce pleaded guilty to a criminal offence - drink-driving - in November, was fined £400 and lost his licence for a year.