MPs' expenses: £3.1m claimed in three months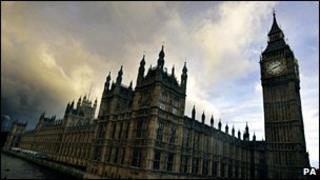 MPs were paid £3.1m in expenses during the first three and a half months after the general election.
The Independent Parliamentary Standards Authority - which runs the new system - has published 22,000 claims paid out between 7 May and 31 August.
Of those MPs who claimed expenses, the largest amount - £20,752 - was paid to Tory Keith Simpson while Labour's Jeremy Corbyn had the lowest at £8.70.
Nick Clegg was among 78 MPs who claimed no expenses at all over the period.
His fellow cabinet ministers Vince Cable and Eric Pickles also claimed no expenses, as did shadow education secretary Andy Burnham.
Sinn Fein MPs Gerry Adams and Martin McGuiness - who do not take their seats in the Commons - also did not feature on the list of expenses claims.
Ipsa has published 22,000 MPs' claims made between May and August on its website - the first published since MPs have been using the new system, overhauled following last year's expenses scandal.
The first claims made by 572 MPs under the new expenses system total £3.1m - with a further £100,000 of claims validated but not yet approved for payment.
Claims made under "accommodation" amounted to the highest amount - £528,710. Under changes made to MPs' expenses, they are no longer able to buy properties subsidised by the taxpayer.
MPs, who generally have two homes - one in London and one in their constituency - can claim for rent and some bills. MPs who already owned second homes before the new system came in can continue to claim mortgage interest payments for a transitional period - those interest payments amounted to £80,953 over the period.
The figures show Prime Minister David Cameron claimed £2,581.13 in total. Labour leader Ed Miliband claimed £2,066.
The smallest single claim paid out was 14p for mileage - claimed by SNP MP Pete Wishart, the largest single claim was £9,003 to Labour's Siobhan McDonough for "bought in office management".
Claims published by Ipsa are broken down by date, category, amount and a basic description.
Individual receipts are not being published "proactively" due to cost, nor will rejected claims, as Ipsa agreed to give MPs a few months to get used to the new system.
However a Freedom of Information request by the Times revealed that more than 1,500 claims submitted between May and August were not paid for various reasons - either because of mistakes made by MPs, or by Ipsa itself. Rejected claims will be published in future.
Later MPs will debate Ipsa itself - amid continuing anger among some MPs about what they say is a costly and ineffective system.