Minimum wage 'most successful government policy'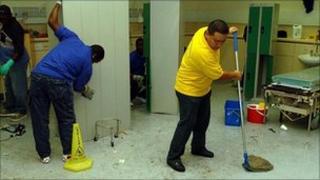 The minimum wage has been named as the most successful government policy of the past 30 years in a survey of British political experts.
Other highly rated policies include devolution, privatisation and the Northern Ireland peace process.
Researchers at the Institute for Government polled 159 members of the Political Studies Association.
They rated social and economic impact, successful implementation and duration of impact as key success factors.
The least important factor, according to the politics academics, was media approval - this was mentioned by only 10% of respondents.
The minimum wage was introduced in April 1999, after being a central plank of Tony Blair's 1997 election manifesto, and although initially opposed by the Conservatives, who argued it would lead to job cuts, has now become accepted across the political spectrum.
Union reforms in the early 1980s, which saw the end of collective bargaining in many industries, coupled with abolition of wages councils, meant pay had fallen below what was thought a living wage in some jobs.
'Committed'
When it was first introduced, the minimum wage was £3.60 per hour and £3.00 for 18 to 21-year-olds. It is currently £5.93 a hour, £4.92 for 18 to 20-year-olds and £3.64 for 16 and 17-year-olds. The apprentice rate, for under 19s or those over 19 in the first year of training is £2.50.
Other policies named as successful in the survey include Sure Start family centres, the Human Rights Act, independence for the Bank of England, European integration, trade union reform and the smoking ban.
Lord Adonis, the former Labour Transport Secretary who is now the director the Institute for Government, a new think aimed at improving the standard of governance in the UK, said the common factor shared by many of the policies at the top of the table "were ones that the government came into office absolutely committed to pursuing but which were carefully planned and not rushed into".
He added: "Action on devolution and the minimum wage came in the first year of the new government - but was based on lengthy preparation before the government took power.
"The privatisation programme developed more incrementally over Thatcher's first term, only really gaining pace in the second term.
"Let's not forget though other areas where there's been real progress over the last 30 years, albeit much more slowly - for instance, making roads safer and reducing smoking rates.
"In all there was a strong political drive behind these most cited successful changes but lessons were carefully learned throughout their development. If there are any lessons for the Coalition it is act swiftly on their commitments yes, but in doing so take time to learn from past attempts."
Political Studies Association Chair, Professor Vicky Randall, said the findings "could also indicate that policy-makers might be remembered for implementing policies which are perceived to 'make a difference'".
Here is a selection of your comments:
Without doubt the Sunday Trading Act of of 1994. Sundays in the UK used to be tedious, boring and depressing. Saturday's were spoiled by the need for the whole working population to shop simultaneously. I recall this legislation was vigorously opposed by the Trade Unions. Graham, London
Tax deductable child care. It made the difference between having a job or career or just dreaming about one, especially for single parents and low income families. One of Labour's better moments. loobyloo, Devon
Along with the minimum wage, Northern Ireland peace process, devolution and Sure Start I would add the Freedom of Information Act and the equalities legislation introduced by Labour (race, disabilty and age discrimination acts.) I would definitely not say 'privatisation' because this has been a disaster for the railways and the water companies, which are now foreign owned and make use of outsourced staff in countries like India (good for the share holders, but not for the customers or U.K. employees.) Anthea, Wilts
The National Minimum Wage is 'successful'? Tell that to the 130,000 interns currently working unpaid! Perhaps these brilliant 'political experts' can work out why this group of vulnerable young workers has been completely abandoned by those whose job it is to protect them from exploitation? The current situation is a scandal. Tanya, London
Privatisation should be top of the list of worst policies not best, look at the misery and lack of investments it has caused on the railways for starters. Carl, West bromwich
The best policies in the last 20 years are The mimimum wage. Freedom of infomation act. Hunting with dogs act. Sure Start. Trevor, Grimsby